Staff on COP27: Strengthening international cooperation
Staff on COP27: Strengthening international cooperation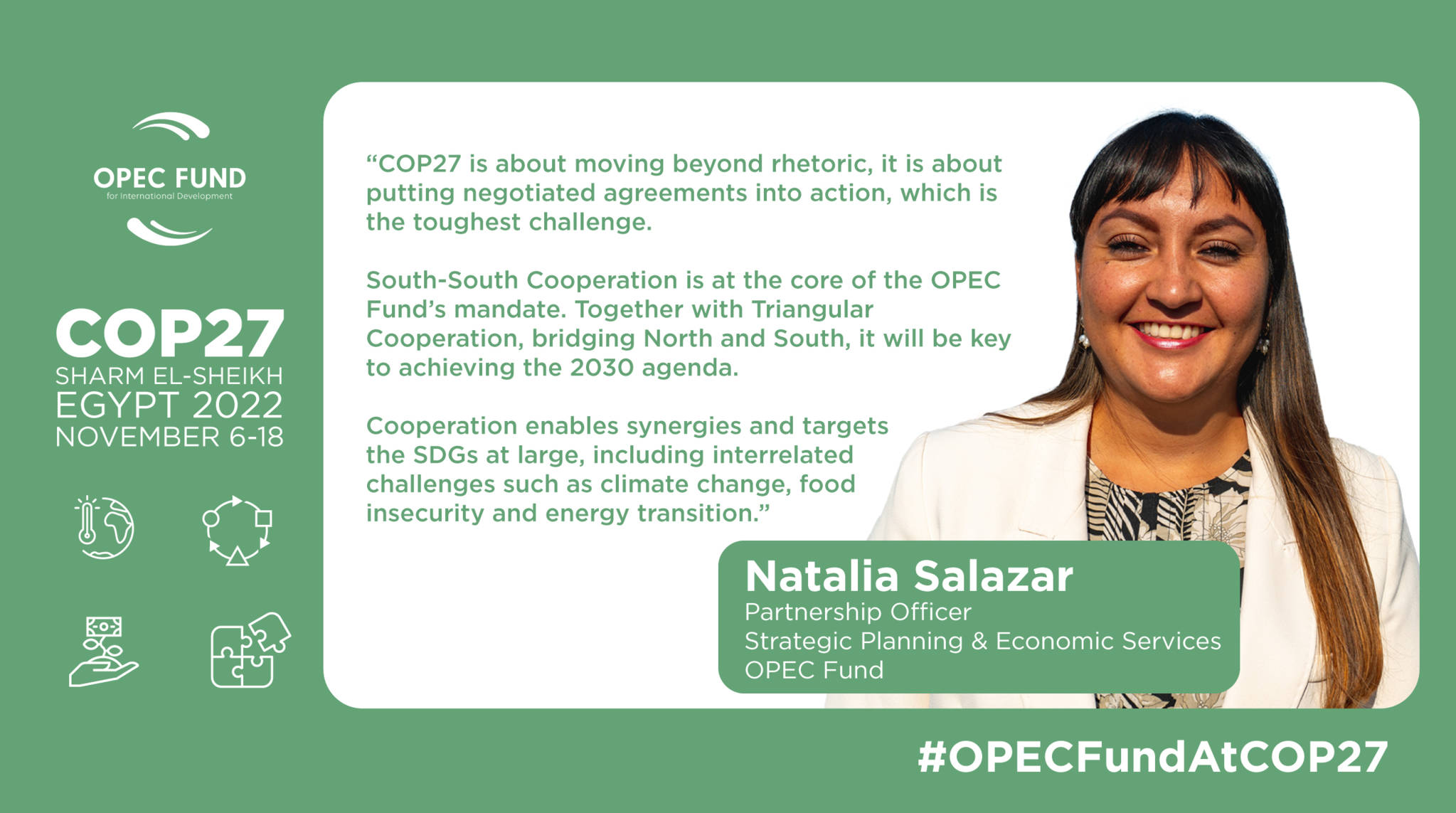 This series highlights our climate and development work worldwide, with an equal focus on planet and people. From agriculture in Africa to energy in Asia, our projects contribute to climate action through numerous public and private sector initiatives and partnerships. In September 2022, the OPEC Fund adopted its first Climate Action Plan, with a commitment to doubling our share of climate financing to 40 percent by 2030, while mainstreaming climate action across our operations. #OPECFundAtCOP27
Natalia Salazar, Partnership Officer — Strategic Planning & Economic Services
A core theme of COP27 is to move from pledges to implementation. How is the OPEC Fund helping to convert climate commitments into effective action?
COP27 is about moving beyond rhetoric, it is about putting negotiated agreements into action, which is the toughest challenge. The OPEC Fund is aligning its practices with partner MDBs and DFIs and with rapidly shifting trends worldwide. One example is the recent launch of the OPEC Fund Climate Action Plan and the announcement of our Climate Finance and Energy Transition Innovation Hub. We, as an organization are providing the necessary platforms, tools and financing to our partner countries to combat climate change through effective and inclusive partnerships.
The OPEC Fund will make a major announcement with the ACG at COP27. How important are South-South partnerships — as well as triangular cooperation — for achieving the 2030 Agenda?
South-South Cooperation is at the core of the OPEC Fund's mandate, and both South-South and Triangular Cooperation (TrC) are key to achieving the 2030 agenda, not least because cooperation enables synergies through multi-stakeholder partnerships and targets the SDGs at large. Through South-South Cooperation and TrC, partner countries benefit from transfer of knowledge and resources to find innovative solutions while tackling interrelated challenges such as climate change, food insecurity and energy transition.
Related Stories
Two OPEC Fund loans totaling US$35 million to boost food security and livelihoods and improve health and living conditions for more than 1.4 million people