Staff on COP27: Making energy access sustainable
Staff on COP27: Making energy access sustainable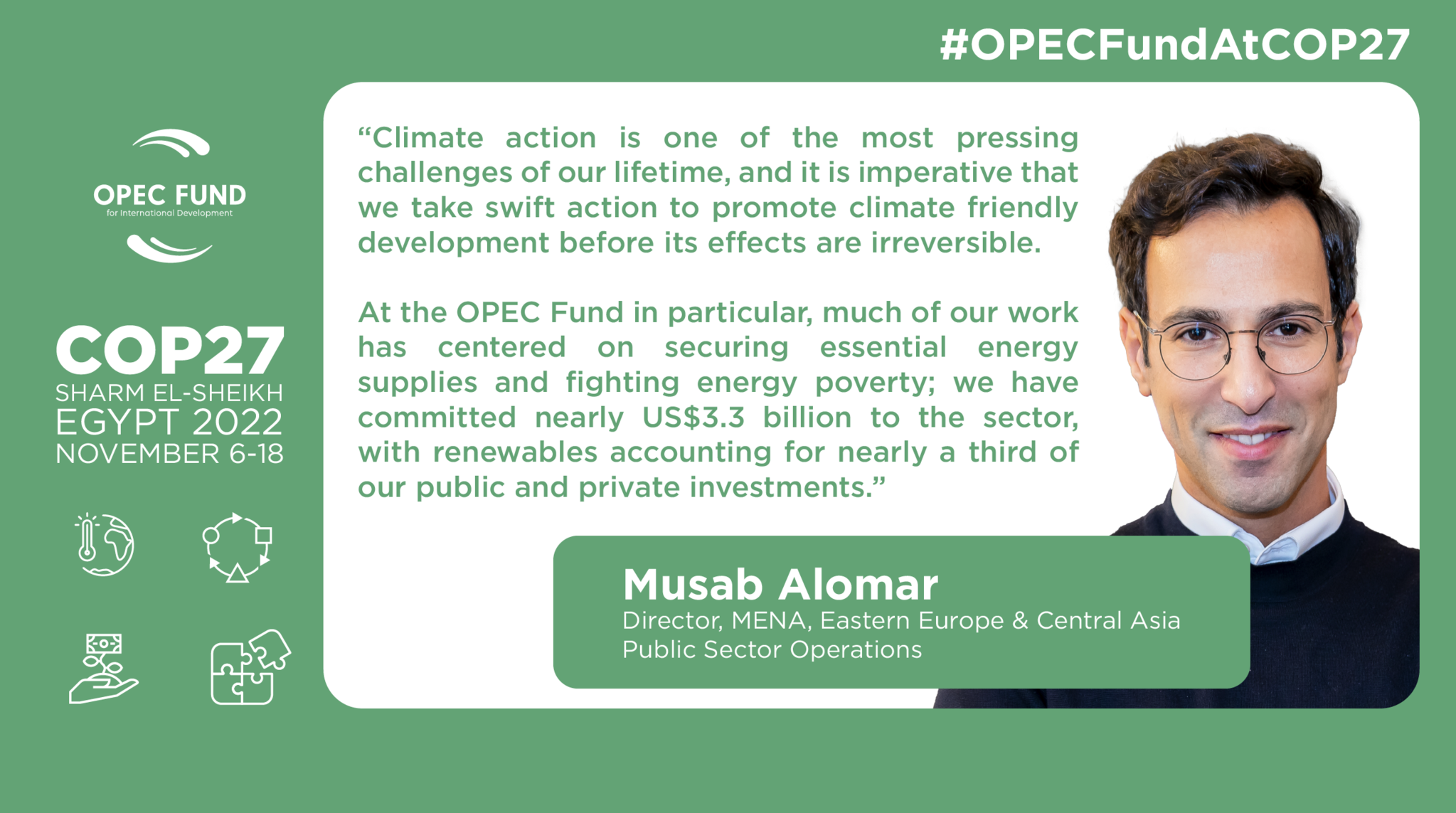 Musab Alomar, Director, MENA, Eastern Europe & Central Asia — Public Sector Operations
What are the overlaps between development work and climate action? How are they compatible and even complementary?
Climate action is one of the most pressing challenges of our lifetime, and it is imperative that we take swift action to promote climate friendly development before its effects are irreversible. At the OPEC Fund in particular, much of our work has centered on securing essential energy supplies and fighting energy poverty; we have committed nearly US$3.3 billion to the sector, with renewables accounting for nearly a third of our public and private investments.
According to the International Energy Agency, energy efficiency can achieve more than 40 percent of the emissions cuts needed to achieve current climate goals. So as we put forward our resources to promote energy equality, we need to be mindful that we are also supporting the right technologies, and mindful of the regulatory environments and goals countries themselves have committed to on the path to a more sustainable future.
The OPEC Fund will make a major announcement with the ACG at COP27. How important are South-South partnerships — as well as triangular cooperation — for achieving the 2030 Agenda?
Partnerships have always been at the heart of the OPEC Fund's work and essential to our modus operandi. They say there is strength in numbers, and indeed, there is a certain strength in sharing experiences, and comparing practices and policies that have already been tested and proven in similar environments.
It is for this reason that we are teaming up with our close partners at the Arab Coordination Group at this year's climate conference in Sharm El-Sheikh to build on our Climate Action Plan. We also plan to introduce innovative finance solutions to better leverage each US$1 of sovereign finance to attract US$4 of green and sustainable capital into projects.