Staff on COP27: Focusing on future generations
Staff on COP27: Focusing on future generations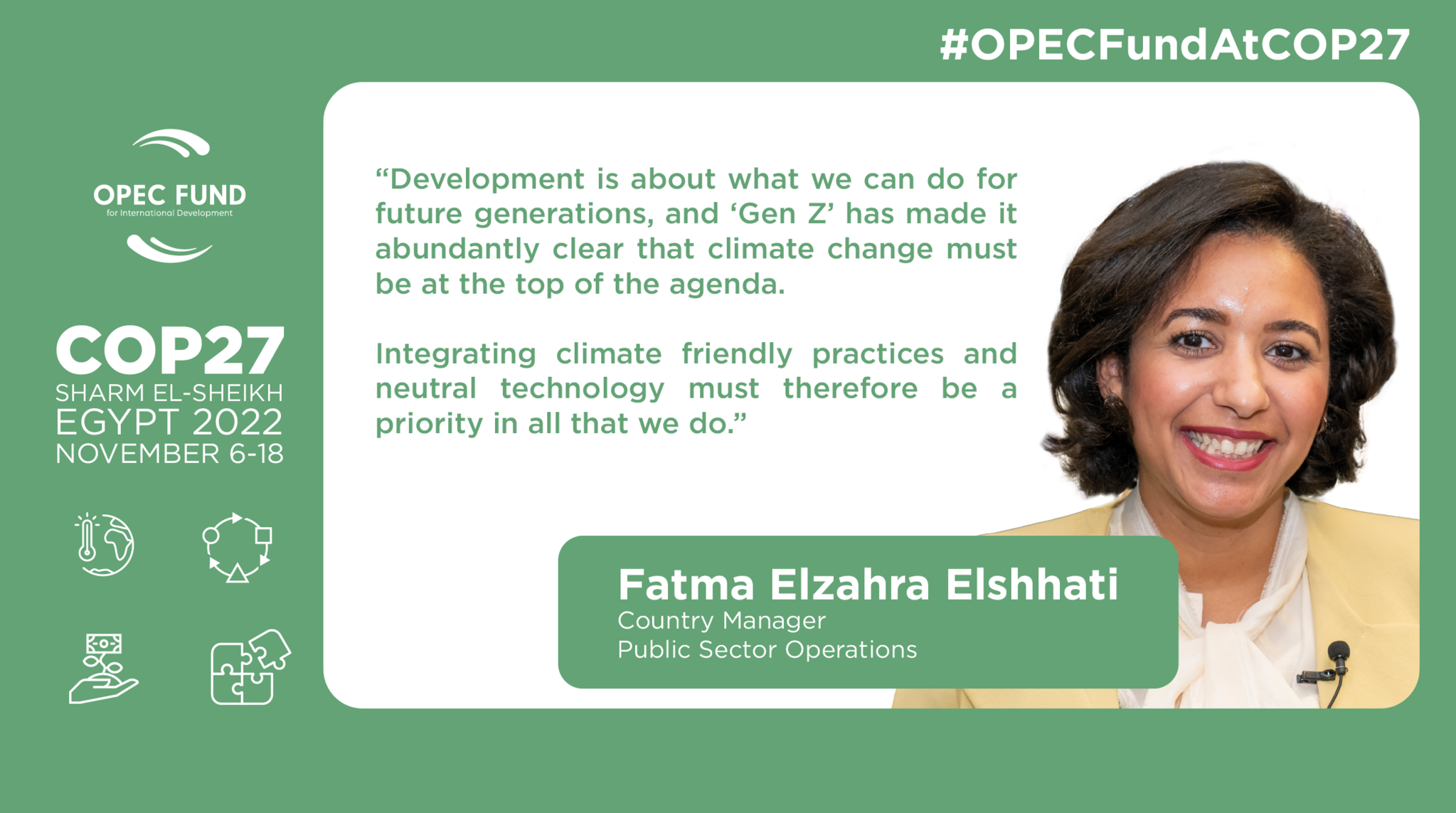 This series highlights our climate and development work worldwide, with an equal focus on planet and people. From agriculture in Africa to energy in Asia, our projects contribute to climate action through numerous public and private sector initiatives and partnerships. In September 2022, the OPEC Fund adopted its first Climate Action Plan, with a commitment to doubling our share of climate financing to 40 percent by 2030, while mainstreaming climate action across our operations. #OPECFundAtCOP27
The Egyptian COP27 Presidency is advocating "a just transition in the energy sector". How does that chime with the mission of the OPEC Fund?
Egypt has taken a proactive approach to achieving the goals under its National Climate Change Strategy 2050. This year, various Egyptian ministries led by our counterpart the Ministry of International Cooperation, held extensive consultations with development partners to plan the way ahead in the context of COP27.
This spirit of partnership — and the country taking ownership over its own path — chimes with our mission and modus operandi at the OPEC Fund. As we move forward together on the international stage, we are glad to join our partners in Egypt to support the country's ambitious goals.
What are the overlaps between development work and climate action? How are they compatible and even complementary?
Development is about what we can do for future generations, and "Gen Z" has made it abundantly clear that climate change must be at the top of the agenda. Integrating climate friendly practices and neutral technology must therefore be a priority in all that we do.
A large part of our work involves supporting partners to develop or revamp their infrastructure, which in turn means coming together to adopt best practices on climate action.
To be truly sustainable, however, we must respect not only what is possible but also what is reasonable for developing countries, as we scale-up efforts and resources for climate action — both in terms of finance and expertise.