Staff on COP27: Fighting energy poverty sustainably
Staff on COP27: Fighting energy poverty sustainably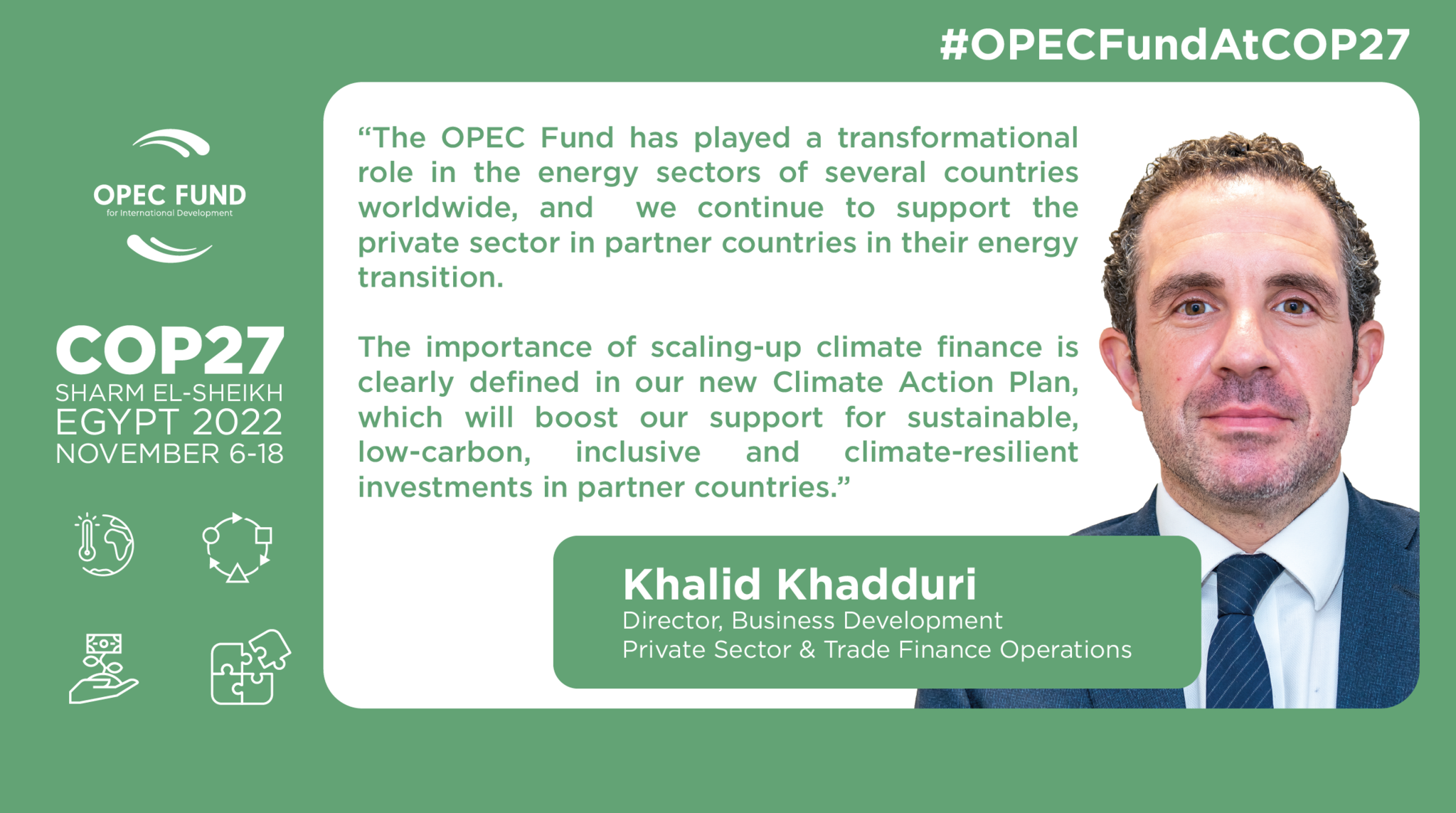 This series highlights our climate and development work worldwide, with an equal focus on planet and people. From agriculture in Africa to energy in Asia, our projects contribute to climate action through numerous public and private sector initiatives and partnerships. In September 2022, the OPEC Fund adopted its first Climate Action Plan, with a commitment to doubling our share of climate financing to 40 percent by 2030, while mainstreaming climate action across our operations. #OPECFundAtCOP27
Khalid Khadduri, Director, Business Development — Private Sector & Trade Finance Operations
How are our private sector projects contributing to climate action? How exactly are they improving the lives of local people?
Even with the recent, rapid increase in private sector investments, the demand for climate finance remains huge. Just how large remains to be seen, however, as there is still uncertainty surrounding the long-term needs of climate adaptation and mitigation.
The OPEC Fund has played a transformational role in the energy sectors of several countries worldwide, and we continue to support the private sector in partner countries in their energy transition. In 2013, we helped Jordan finance its first privately owned renewable energy facility — a wind energy farm — displacing an estimated 235,000 tons of carbon emissions a year. This was the first commercial utility scale wind project in the Middle East.
We continued to support the renewables space in Jordan with our investments in the Seven Sisters Solar Projects (comprising seven solar plants) and most recently via the Baynouna Solar Energy Project, which has helped provide 160,000 homes with clean and sustainable energy and displaced 360,000 tons of CO2 emissions, producing close to 4 percent of Jordan's annual energy consumption. Close to 70 percent of the project workers are from local communities.
One of our COP27 events, co-hosted with the AIIB, will focus on scaling-up climate finance for sustainable infrastructure. What are the different kinds of sustainable infrastructure and how important are they for the OPEC Fund?
Covering everything from transport to power, sustainable infrastructure is infrastructure that has been designed, financed and implemented in a way that supports economic, social and environmental sustainability.
The importance of scaling-up climate finance is clearly defined in our new Climate Action Plan, which will boost the Fund's support for sustainable, low-carbon, inclusive and climate-resilient investments in partner countries and is a continued key driver for the OPEC Fund going forward.