Staff on COP27: Ensuring a fair energy transition
Staff on COP27: Ensuring a fair energy transition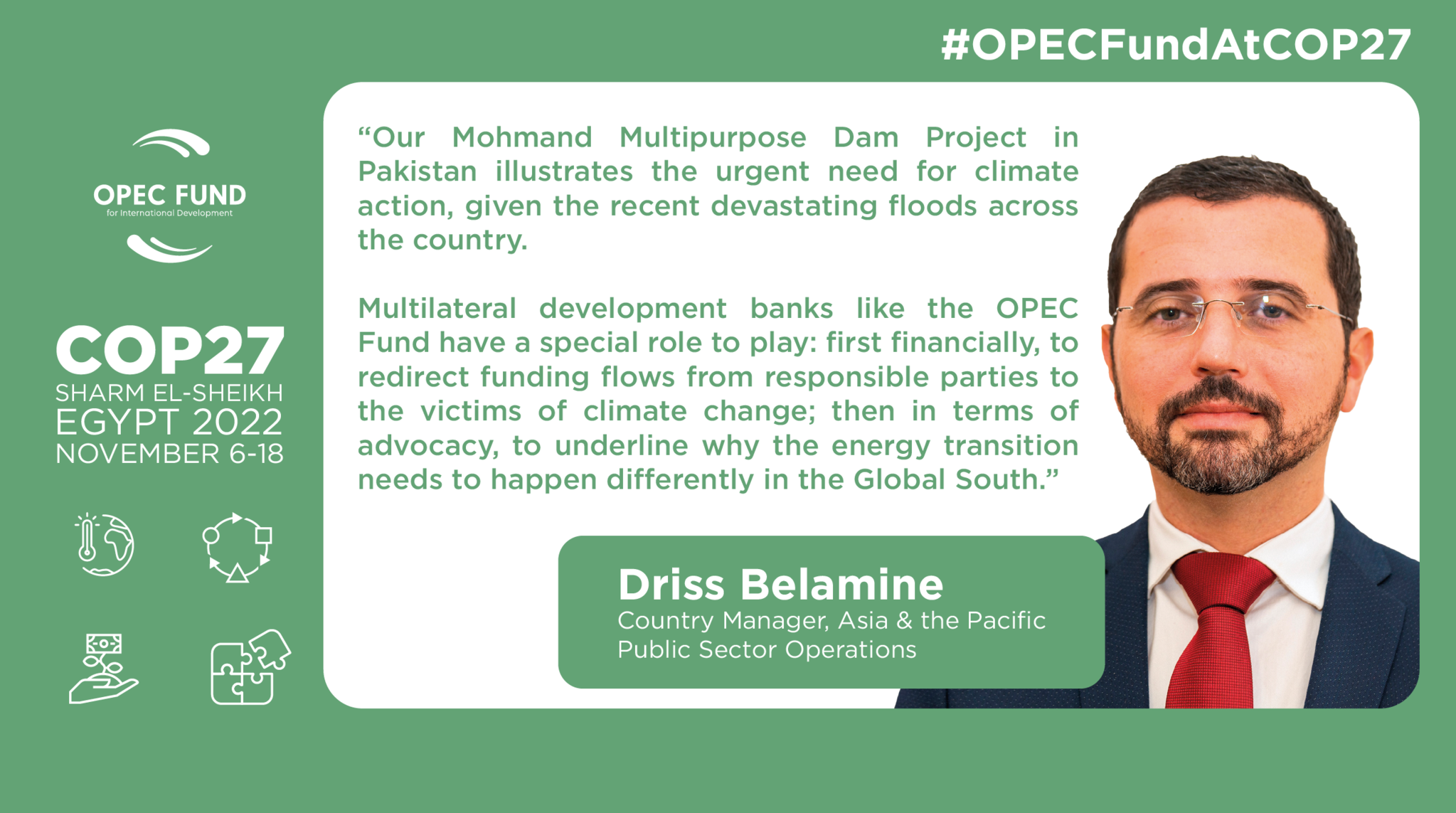 This series highlights our climate and development work worldwide, with an equal focus on planet and people. From agriculture in Africa to energy in Asia, our projects contribute to climate action through numerous public and private sector initiatives and partnerships. In September 2022, the OPEC Fund adopted its first Climate Action Plan, with a commitment to doubling our share of climate financing to 40 percent by 2030, while mainstreaming climate action across our operations. #OPECFundAtCOP27
Driss Belamine, Country Manager, Asia & the Pacific — Public Sector Operations
In Pakistan, how is our Mohmand Multipurpose Dam Project contributing to climate action? How is it actually improving the lives of local people?
The Mohmand Multipurpose Dam Project in the northwest of Pakistan is a good illustration of the urgent need for climate action, especially given this summer's devastating floods across the country.
As the title suggests, this project has multiple objectives — of which several are linked to the climate challenge. It will generate clean energy, provide a sustainable supply of water for irrigation and human consumption, while also improving flood resilience.
The 2010 floods, which inundated a fifth of the country's land mass and directly affected 20 million people, pushed this mega project to the top of the government's agenda; indeed, this year's floods would have been less deadly and destructive had the dam already been in place. Construction is set to be completed by December 2026, by which time the dam will be able to relieve flood pressures by around 40 percent.
In March 2022, the OPEC Fund approved a US$72 million loan in support of the project, which has a total cost reach of US$2.2 billion.
What role can multilateral development banks (MDBs) play in supporting a just energy transition?
Supporting the energy transition is a global challenge, for which there is now a clear consensus. The keyword, however, is "just". How can we ensure the transition is a fair process for all? How can we ensure the poorest do not bear the harshest costs and consequences? It is a complex task. All too often, those who are least responsible for CO2 emissions are the ones who suffer the most. This can be seen on various levels, both within societies and among countries.
MDBs like the OPEC Fund have a special role to play: first financially, to redirect funding flows from responsible parties to the victims of climate change; then in terms of advocacy, to underline why the energy transition needs to happen differently in the Global South.
For developing countries where the baseload needs are not yet met, bridging the gap with intermittent renewable sources of energy cannot be the immediate solution. At least for a transitory period, those countries will need reliable sources of energy in their "mix", ideally the least polluting of course (such as gas, geothermal and hydropower).
In sum, with pragmatism, equity and innovative thinking, MDBs have a transformational role to play within a just energy transition.