Staff on COP27: Delivering universal energy access
Staff on COP27: Delivering universal energy access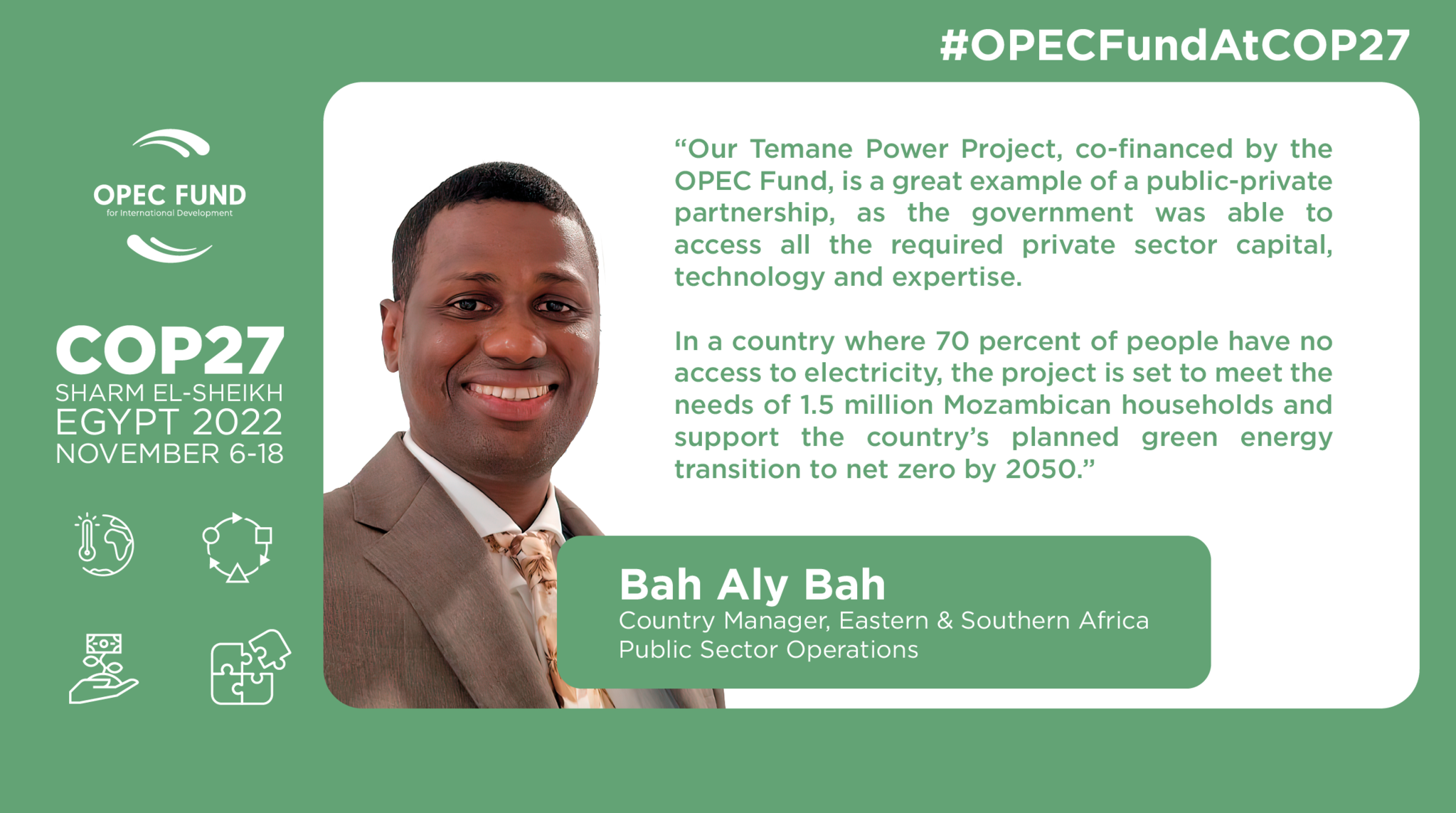 This series highlights our climate and development work worldwide, with an equal focus on planet and people. From agriculture in Africa to energy in Asia, our projects contribute to climate action through numerous public and private sector initiatives and partnerships. In September 2022, the OPEC Fund adopted its first Climate Action Plan, with a commitment to doubling our share of climate financing to 40 percent by 2030, while mainstreaming climate action across our operations. #OPECFundAtCOP27
Bah Aly Bah, Country Manager — Public Sector Operations
How is our Temane Thermal Plant Project in Mozambique contributing to climate action? How is it improving the lives of local people? How important are partnerships for achieving the 2030 Agenda?
The Government of Mozambique aims to achieve universal access to electricity by 2030 — a goal that will require significant additional investment in new infrastructure across the electricity value chain by both the government and the private sector. The Temane Power Project (CTT), co-financed by the OPEC Fund, is a great example of a public-private partnership, as the government was able to access all the required private sector capital, technology and expertise.
In a country where 7 out of 10 people have no access to electricity, the project is set to meet the needs of 1.5 million Mozambican households and support the creation of jobs and livelihoods, including 3,000 jobs during construction and 200 permanent jobs during operations. The project is in line with the Paris Agreement and will support Mozambique's planned green energy transition to net zero by 2050.
As a flexible baseload power plant, CTT can make up the shortfall when renewable resources are low — at night, for example, when solar plants cannot generate power, so enabling Electricidade de Moçambique (EdM) to integrate more renewable power projects. The plant will utilize state-of-the-art technology capable from its inception of using lower carbon gas, such as hydrogen, at significant levels. In the medium term, project partners are also exploring the feasibility of integrating carbon capture and storage technologies.

Operations
Category
Technical Assistance
Category
Technical Assistance