Renewables Now!
Homes and hospitals, schools and shops will always need power. Economies cannot grow in the dark, nor can societies function. The challenge now is to keep the lights on without causing the sky to fall in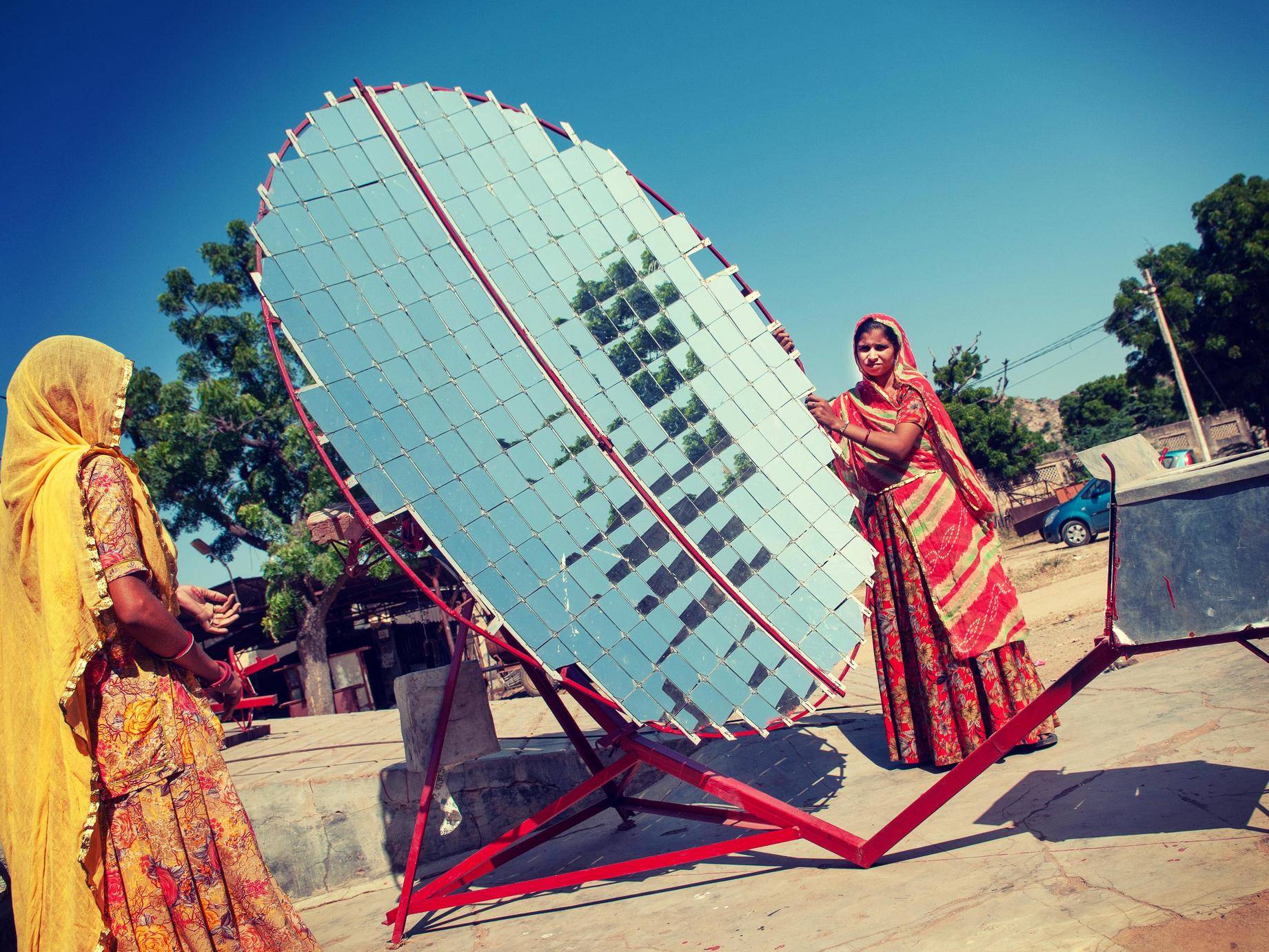 Photo: Pradeep Gaurs/Shutterstock.com
For anyone not holed up in an unlit cave, it is indisputable that energy drives development and that carbon emissions drive climate change. But does that mean the priorities of SDG 7 – Clean and Affordable Energy and SDG 13 – Climate Action need to be at odds? No. They can and should be aligned, argues Tarek Sherlala, OPEC Fund Assistant Director-General for Financial Operations: "Climate finance is and will become the development agenda by definition."
That means investing more and more in renewable energies, not just in rich countries but throughout the developing world. Everywhere. Now. A point underscored by Mueid Al Raee, Doctoral Fellow at the United Nations University (UNU-MERIT), Maastricht, who says: "We need to stop thinking of renewables as the future – they must be the present, mainstreamed and normalized by 2030… Why wait?"
Only renewables can help us meet the parallel goals of climate action and energy access. Wind and solar are increasingly popular, but our era-defining "energy transition" will require all four elements, while maxing out on energy efficiency. Surging demand and burgeoning populations will need a reliable supply of renewable energy, implying more hydropower and geothermal (also via former oil wells) wherever possible.
Nuclear power also provides stable baseload with low-carbon emissions on a small footprint, but remains controversial because of long-term concerns linked to radioactive waste and catastrophic accidents like Fukushima in 2011 and Chernobyl in 1986. Recent EU moves to classify certain nuclear and natural gas plants as "sustainable" drew fierce criticism in 2022 from among others the governments of Austria, Denmark, Luxembourg and Spain. Neither gas nor nuclear is defined as "green" under the following UN assessments.
So, as of early 2023, where do we stand at the midway mark on the 2030 Agenda? Are we on track? Have plague and war derailed us? This article takes multiple angles on progress towards SDGs 7 and 13, combining UN assessments with interviews and analyses from media and research experts. We conclude with a high-level summary of the OPEC Fund's record on renewables before looking ahead to the UN Climate Change Conference COP28, to be hosted by our member country United Arab Emirates.
"We are way off track"
The UN SDG Report 2022 finds some progress on access to clean energy, but the key message is that a lack of financing and infrastructure is holding back the rollout of renewables. At the same time, carbon dioxide emissions linked to energy have reached their highest levels in recorded history. First the good news on SDG 7. In the decade from 2010 to 2020, the share of renewables in the electricity sector increased from under a fifth to over a quarter, and total renewable energy consumption rose by a quarter. Meanwhile, the number of people without access to electricity shrank by some 500 million from 1.2 billion to 733 million.
However, those numbers came in before the double whammy of the global COVID-19 pandemic and the war in Ukraine. Alex Martinos, Director of Energy Transition Research at Energy Intelligence, a media group, paints a grim picture: "2022 saw backward steps on access to energy. Spikes in fuel costs, alongside other economic pressures, mean that around 75 million people who recently gained access to electricity are likely to lose the ability to pay for it, according to the International Energy Agency (IEA)." That would put the headline figure back over the 800-million mark.
On the clean cooking front, a handful of countries – Brazil, China, India, Indonesia and Pakistan – have made great progress in weaning their people off wood and other polluting cooking fuels. However, the rest of the developing world is lagging behind and on 2020 trends nearly a quarter of the global population will still lack access to clean cooking fuels and related technologies by the end of the decade. Worse still, 2022 saw another reversal in the face of high fuel costs. According to IEA: "100 million people may revert to the use of traditional biomass for cooking." That would put the headline number up to 2.5 billion.
Energy efficiency is another key element of SDG 7. Defined as the ratio of total energy supply to GDP, the East and Southeast Asia region has made such good progress that it has already achieved its target. The global target for energy efficiency remains within reach by 2030 – but only if the international community makes quick and systematic investments.
What does that mean in practice? Ahmad Khalid, Postdoctoral Fellow at the United Nations University (UNUIAS), Tokyo says: "Sectors such as buildings, industry, and urban transport are critical from the perspective of energy efficiency and energy transition policy, as these provide the highest employment opportunities for a given investment. Effective measures include minimum energy performance standards to improve innovation and competitiveness (as implemented in China), as well as grants and loans for lowering equipment cost and retrofitting."
International public financing for renewable energy in developing countries has slowed significantly in recent years, dropping by almost a quarter from 2018-2019. "The failure to hit the US$100 billion target [for climate finance from rich to poor countries] is likely to remain closely scrutinized," says Martinos. "COP27 saw some progress to close this gap, with noteworthy recent initiatives including 'Just Energy Transition Partnerships' struck by Europe and the USA with South Africa and Indonesia.
"But the scale of the overall challenge is much greater, with external climate finance needs for developing economies recently put at around US$1 trillion annually by 2030. Long-standing financing challenges are now an area of greater focus, as multiple actors seek to expand sources of funding and the pipeline of bankable projects. As well as increasing the role for development finance institutions there is also a proliferation of innovative schemes such as plans to direct carbon offset dollars through mechanisms like the US-backed Energy Transition Accelerator, set to channel billions in private sector investment towards renewable energy."
On speeding up the actual rollout of renewables, Martinos and Khalid cite the need to customize infrastructure in developing countries, for example via mini-grids and off-grid electricity. Yet the demands are not only technical. Both agree on the need to improve transparency and trust by tackling policy and regulatory gaps.
Martinos sums it up: "Policy progress has been noteworthy, with initiatives including the US Inflation Reduction Act, the EU's REPowerEU and Green Deal agendas, and Japan's Green Growth Strategy all supporting the expansion of clean energy industries, and speeding the rollout of these technologies. One example is plug-in electric vehicles, which made up over 10 percent of new global auto sales in 2022. But while recent policy moves should encourage accelerated investment, there are also concerns that they could fuel trade disputes and protectionism."
On SDG 13, carbon dioxide emissions linked to energy increased by 6 percent in 2021, reaching their highest levels in recorded history. That year was also one of the seven warmest on record, marked by unprecedented heatwaves in Canada, deadly floods in Europe and Asia, as well as severe droughts in parts of Africa and Latin America.
Martinos says: "On global progress toward climate goals – (especially goal 13.2) we see that activity is accelerating – but that it's not fast enough. Most assessments put the world on a path to global temperature increases of well over 2°C above pre-industrial levels, and scope for keeping a 1.5°C pathway alive now looks increasingly slim. CO2 emissions have (2020 aside) grown every year since Paris (2015), so the emissions cuts needed to keep the world on a Paris-aligned pathway grow steeper every year."
The "Global Stocktake" (assessing collective progress on the implementation of the Paris Agreement) is set to underscore such concerns and highlight the urgency of faster action. That was noted by the new COP28 President Sultan Ahmed Al Jaber, who in January 2023 said: "We are way off track."

AS PUBLISHED IN THE OPEC FUND QUARTERLY ISSUE: THE SUSTAINABILITY AGENDA: HALFWAY TO 2030