OPEC Fund co-financed project wins Prince Talal International Prize
OPEC Fund co-financed project wins Prince Talal International Prize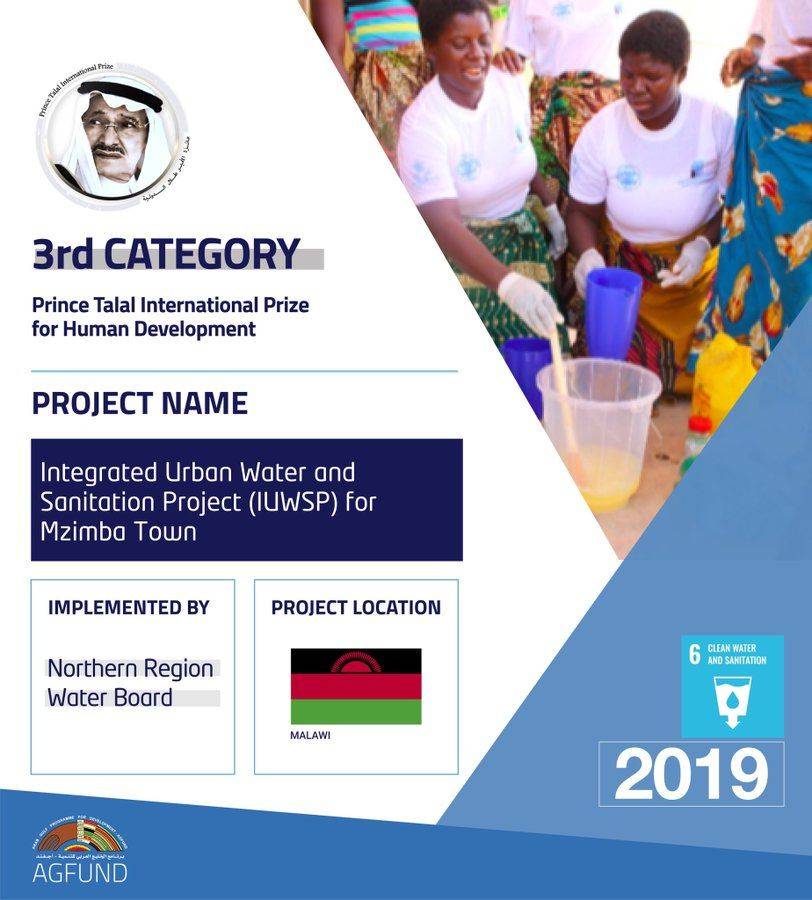 Photo: AGFUND
An OPEC Fund co-financed development project in Malawi has been named a 2019 Prince Talal International Prize for Human Development award winner by the Arab Gulf Programme for Development (AGFUND).
The AGFUND announced the project as one of four winners from 83 projects and 38 countries in the water and sanitation category of its prize. The OPEC Fund partnered with the African Development Bank to provide finance and guidance for the project's implementation.
The Integrated Urban Water and Sanitation Project (IUWSP) for Mzimba Town was implemented by Malawi's Northern Region Water Board (NRWB) and wins US$200,000. The prize category recognizes projects implemented by governmental bodies, such as ministries and public institutions, or social business enterprise.
The OPEC Fund nominated the project owing its broad social impact, which is expected to raise health and living standards, as well as improve livelihoods, for over 100,000 people in Mzimba town, Malawi by 2025.
Completed six months ahead of schedule, project works included the rehabilitation and expansion of water supply infrastructure and construction of new sanitation facilities in primary schools, markets, sanitation centers and waste management sites.
On behalf of Malawi's NRWB, Engineer Titus C Mtegha said: "We extend our gratitude to the African Development Bank and OPEC Fund for International Development for the financial support as well as the guidance during the implementation of the Mzimba IUWSP. This is a motivation to us and we promise to go an extra mile to ensure that the Nkhata Bay Town Water Supply and Sanitation Project* is implemented even more efficiently than the Mzimba IUWSP."
AGFUND made the award announcement after holding a virtual meeting on April 21 with the prize committee, headed and chaired by HRH Prince Abdulaziz bin Talal, who is also chairman of the Arab Council of Childhood and Development.
The committee's final decision was based on an evaluation process undertaken by a pool of independent experts.
*An ongoing OPEC Fund / AfDB financed project that will upgrade and expand potable water infrastructure for circa 124,000 people.
Other Prince Talal prize winners
Eau et Vie (Water and Life) in Bangladesh was recognized for its project 'Vulnerable urban communities' socio-economic inclusion through WASH services'.
The Selah Foundation for Development in Yemen was awarded for its 'Program for using solar energy systems to run drinking water wells.'

Saha Global was recognized for its 'Women-Led Clean Water Enterprises for Rural Ghanaian Villages.'
Operations in Malawi
Focus Area
Transportation
Focus Area
Water & Sanitation