OPEC Fund and UNCDF sign agreement to strengthen collaboration
OPEC Fund and UNCDF sign agreement to strengthen collaboration
Multilateral organizations to jointly unlock finance to deliver the Sustainable Development Goals in least developed countries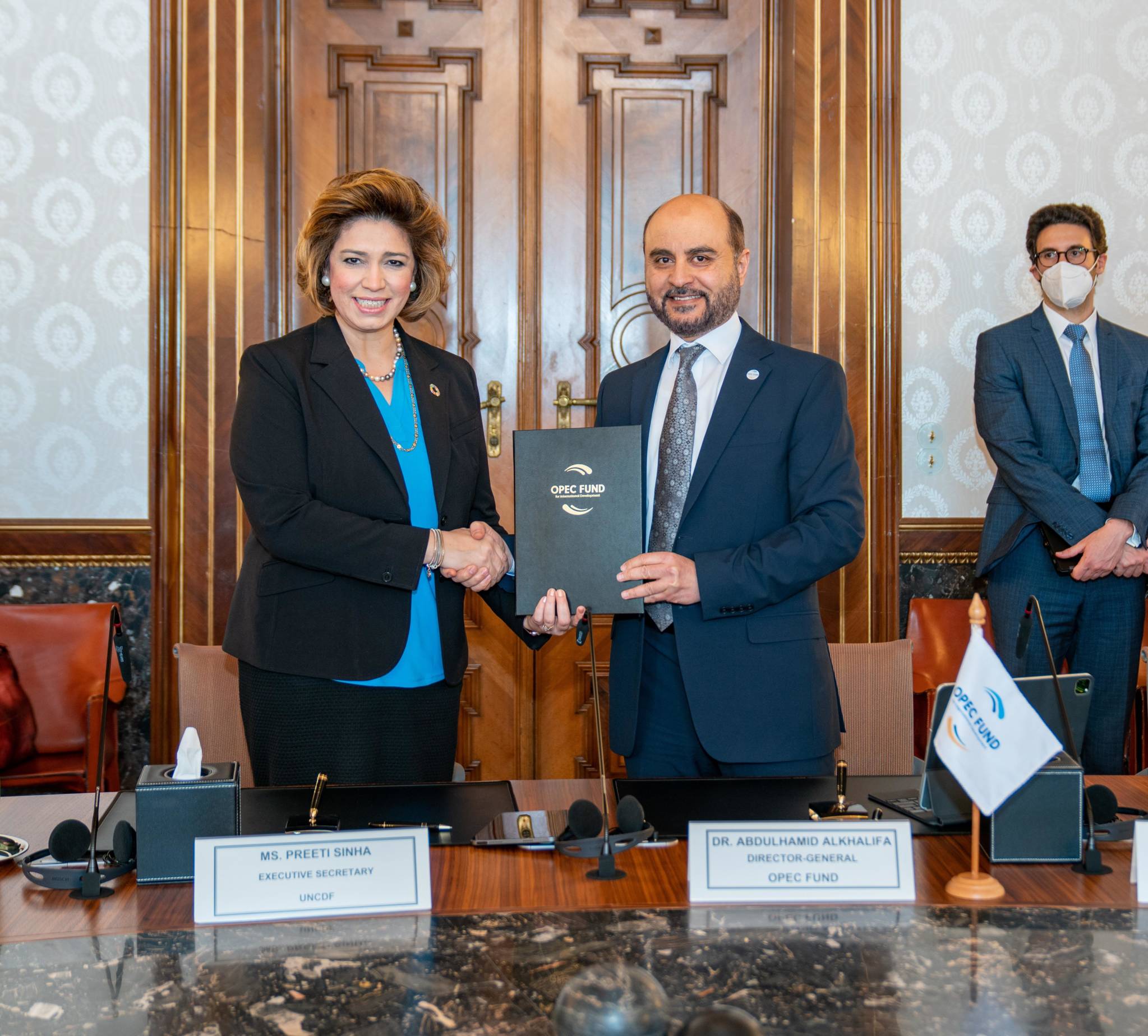 The OPEC Fund and the UN Capital Development Fund (UNCDF) have signed a Memorandum of Understanding to collaborate on solutions that will innovate and scale up finance to accelerate the delivery of the Sustainable Development Goals (SDGs) in countries with the greatest needs.
UNCDF is the UN's flagship catalytic finance organization for the world's 46 least developed countries. The OPEC Fund supports development partner countries, mostly in Africa, Asia and Latin America.
Signed by OPEC Fund Director General Dr. Abdulhamid Alkhalifa and UNCDF Executive Secretary Preeti Sinha, the agreement reflects a shared vision to help people to rise out of poverty and achieve sustainable lives. The two institutions promise to cooperate by building on existing areas of partnership around sustainable finance.
OPEC Fund Director-General Dr. Alkhalifa said:
"We are very pleased to take our cooperation with UNCDF to the next level. We share the ambition to use capital as a catalyst for sustainable growth and development. Going forward, our teams will now work on a detailed roadmap for our joint effort."
One area of collaboration is building viable energy markets for clean cooking solutions. UNCDF will be working in particular with the OPEC Fund's energy transition pilot program in Madagascar alongside the UN Development Programme and the UN Industrial Development Organization.
UNCDF Executive Secretary Sinha said:
"UNCDF complements traditional grant-making and technical assistance with a capital mandate that is unique to the UN system. By harnessing the synergies of our two organizations, we have an opportunity to accelerate the achievement of the SDGs, specifically for the world's least developed countries."