One Young World Summit opens; OFID sponsoring young delegates
One Young World Summit opens; OFID sponsoring young delegates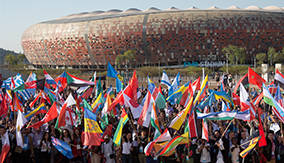 Opening day of One Young World 2013.
Opening day of One Young World 2013.
A delegation from the OPEC Fund for International Development (OFID) is attending the One Young World (OYW) 2013 Summit, which is taking place from October 2 - 5 in Johannesburg, South Africa. OFID is sponsoring 25 delegates from developing countries to participate in the summit. Seven of the OFID-sponsored delegates, being the only representative of their country, were designated "flag bearers" at the opening ceremony.
The event is bringing together 1,250 young leaders from 190 countries.
Since it inaugural summit in London in 2010, OYW has aimed to connect the young to share their vision and ideas for creating practical solutions for a positive change in their communities.
OFID has supported the OYW Summit since inception and has contributed significantly in ensuring the world's under-represented and non-represented youth are present at this global forum.
To date OFID has sponsored 92 young delegates from the developing world and Member Countries through an extensive application process. OFID has successfully pioneered the attendance of various countries that were otherwise not represented through this youth initiative.
OFID Director-General, Mr Suleiman J. Al-Herbish, was one of the counselors for the 2011 summit in that held in Zurich, Switzerland. Counselors of earlier summits included Archbishop Emeritus Desmond Tutu, Bob Geldof, Kofi Annan, Professor Muhammad Yunus and HKH Prince Haakon of Norway.
OFID's delegation comprises Mr Mauro Hoyer, Director, Department of Information and Information Officers Ms Reem Aljarbou and Ms Nadia Benamara.