OFID trade finance loan to Banco Cuscatlan SA to boost international trade in El Salvador
OFID trade finance loan to Banco Cuscatlan SA to boost international trade in El Salvador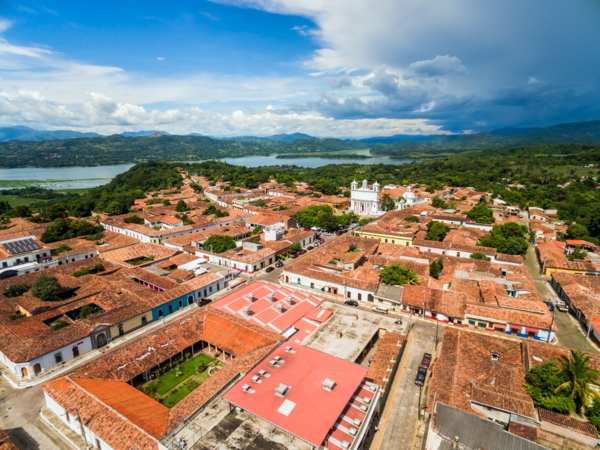 Vienna, Austria, January 2018. The OPEC Fund for International Development (OFID) has signed a US$10 million loan agreement in favor of Banco Cuscatlán SA in El Salvador.
The term loan is supplied through OFID's Private Sector and Trade Finance Operations department and addresses the demand for short-term financing across all sectors of the economy in El Salvador. Sub-loans will provide working capital to enterprises dedicated to international trade activities, helping in turn to boost employment generation and bolster the economy.
OFID is delighted to be working with Banco Cuscatlán to promote international trade in El Salvador, said OFID Acting Assistant Director General, Private Sector and Trade Finance Operations, Tareq Alnassar. This is the third trade finance loan we have extended to the country's banking sector and it's indicative of our commitment to strengthening development financing through private sector funding.
Jose Eduardo Luna, CEO of Banco Cuscatlán El Salvador, said: In Banco Cuscatlán, we are expanding our trade finance services and are delighted to work with OFID as a valuable partner in our initiatives. Through the trade finance facility with OFID, Banco Cuscatlán is able to channel funding to local firms and continue supporting economic development in El Salvador.
El Salvador is the smallest and most densely populated country in Central America, with a population of approximately 6.2 million people. The economy, based on agricultural, suffers volatility due in part to the country's vulnerability to natural phenomena such as floods and tropical storms. OFID's loan will help boost the country?s trade and promote further competition in a concentrated banking sector. Ultimately it will help improve El Salvador?s social and economic development.
About OFID
OFID is the development finance institution established by the Member States of OPEC in 1976 as a channel of aid to developing countries. OFID works in cooperation with developing country partners and the international donor community to stimulate economic growth and alleviate poverty in all disadvantaged regions of the world. It does this by providing financing to build essential infrastructure, strengthen social services delivery and promote productivity, competitiveness and trade. OFID's work is people-centered, focusing on projects that meet basic needs such as food, energy, clean water and sanitation, healthcare and education. OFID aims to encourage self-reliance and inspire hope for the future. For more information, please visit www.ofid.org.
About Banco Cuscatlán El Salvador S.A.
Banco Cuscatlán El Salvador was established in 1972 and currently has total assets of US$1.37 billion and a loan portfolio of US$1 billion, ranking fifth in El Salvador banking system with a market share of nine per cent in total assets as of December 2017. Banco Cuscatlán services both corporate and retail clients through a network of 51 branches and mini-branches, and 211 ATMs with more than 1,800 employees. For over 45 years, Banco Cuscatlán has played a critical role in supporting the Salvadoran economy by providing a wide array of financial products and services to small, medium and large corporations with local and multinational presence. Trade Finance services plays a fundamental role in Banco Cuscatlán's credit portfolio via direct lending, issuing letters of credit, factoring, and export credit to companies involved primarily in international commerce including manufacturing, agriculture, and transportation. Banco Cuscatlán also provides consumers as well as small and medium enterprises (SME) with a full range of banking and financial products including savings, checking, and investment accounts; and debit and credit cards. It also provides telebanking, net/online banking, remittance, money order and bank draft, insurance, money transfer, and payment services. Banco Cuscatlán´s current risk rating is AA+ (SV) by Fitch Ratings.
For more information please go to www.bancocuscatlan.com or contact the Communications Department tel: (503) 2212-2181 / email: comunicaciones@bancocuscatlan.com