OFID supports relief efforts for mudslide victims in Sierra Leone
OFID supports relief efforts for mudslide victims in Sierra Leone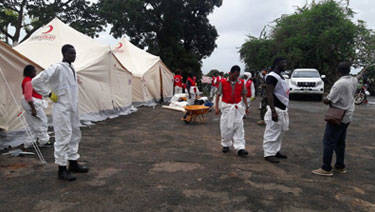 Photo: IFRC. Red Cross volunteers/staff have been involved in search & rescue, first aid, provision of emergency shelter and safe water.
August 30, 2017, Vienna, Austria. The OPEC Fund for International Development (OFID) has approved an emergency assistance grant to help procure essential relief supplies for mudslide victims in Sierra Leone and support emergency operations. The grant will be channeled through the International Federation of Red Cross and Red Crescent Societies (IFRC).
Torrential rains and a series of mudslides in the hillside towns of the capital Freetown have destroyed or damaged nearly 1,000 homes and properties and caused numerous fatalities. Thousands of people are homeless and in need of immediate assistance.
Interventions are focusing on providing shelter materials, household and non-food items, clothing and kitchen equipment, as well as water, sanitation and hygiene facilities to reduce the risk of water- and vector-borne diseases. Unconditional cash grants will be extended to families whose homes have been destroyed.
Since the onset of the disaster, the IFRC has been working with the Sierra Leone Red Cross Society, the International Committee of the Red Cross, the World Food Program, local authorities and ministries, and other entities, to help address people's most urgent needs.
IFRC's latest appeal, which OFID will support with a US$200,000 grant, will fund emergency and recovery services for nearly 5,000 people. OFID's relationship with the IFRC spans 20 years during which more than 70 operations have been supported to the tune of around US$24 million.