OFID supports MSMEs in Vietnam
OFID supports MSMEs in Vietnam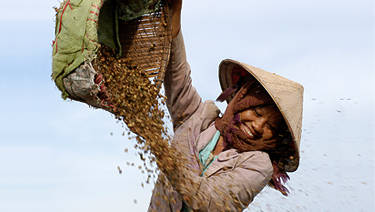 Photographer: Tran Thiet Dung, IFC
Vienna, Austria, March 24, 2017. OFID has signed a US$20m loan agreement with the Vietnam Prosperity Joint Stock Commercial Bank (VPBank). The loan will be used to support Vietnam's micro-, small-, and medium-sized enterprises (MSMEs), in particular those owned by women. The agreement was signed by OFID Director-General Suleiman J Al-Herbish and Nguyen Duc Vinh, VPBank's Chief Executive Officer.
MSMEs in Vietnam account for the majority of all active enterprises and provide over three-quarters of the population with employment. They also generate 40 percent of the country's GDP and produce 20 percent of total exports.
Despite their pivotal role in the Vietnamese economy, MSMEs continue to face many obstacles to growth, including access to financial services. The International Finance Corporation (IFC) estimates that the total credit gap of Vietnam's formal MSMEs amounts to nearly US$11.4bn.
According to Tareq Alnassar, Head of OFID's Private Sector and Trade Finance Operations Department: "MSMEs are a key engine of growth in most of OFID's beneficiary countries. This facility will enable VPBank to provide much-needed capital to MSMEs, with a specific preference for women-owned businesses, which will help alleviate one of the major obstacles to economic growth. It also underscores OFID's commitment to the achievement of SDG8, which aims to promote inclusive and sustainable economic growth and employment."
VPBank is one of the leading MSME-focused banks in the country with a significant majority of its loans supporting small businesses and individuals. OFID's funding is part of the second tranche of a US$158m financing package arranged by the IFC, the private sector arm of the World Bank Group.
Nguyen Duc Vinh, VPBank's Chief Executive Officer, said: "Small and medium enterprises are the focal segment of VPBank's strategy to become a leading retail bank in Vietnam. OFID's financing will help accelerate the realization of this ambitious target and bring practical benefits to our customers."
At least 25 percent of the total funding package will be earmarked to finance women-owned SMEs—a significant but disadvantaged group that accounts for just 28 percent of the total loan portfolio of commercial banks.