OFID successfully concludes its first-ever Member Country Information Program
OFID successfully concludes its first-ever Member Country Information Program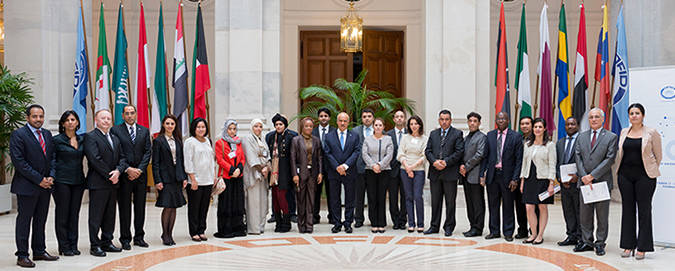 (center) OFID Director-General,
(center) OFID Director-General, Mr Suleiman J. Al-Herbish. The newly-launched MCIP was well-received by participants.
October 25, 2013, Vienna, Austria. OFID's first-ever Member Country Information Program (MCIP), which ran from October 21 - 24, has successfully concluded. The program, which OFID will hold once/year, aims at strengthening OFID's engagement with Member Countries, the institution's key stakeholders, in order to foster stronger awareness of the institution's overall activities as a developmental finance institution and work in energy poverty eradication.
In his closing remarks, Mr Al-Herbish thanked participants for attending the event, and expressed his appreciation to all who contributed to the program's success.
On the final day of the program participants visited the OPEC Secretariat, where they were welcomed by Secretary-General HE Abdalla S. El-Badri and attended a presentation to learn more about OPEC's mandate and activities.
Close to 20 participants from eight different OFID Member Countries attended the MCIP, having come from various Ministries of Finance and Foreign Affairs and Information, as well as embassies situated in Vienna.