OFID signs loan agreements with four partner countries
OFID signs loan agreements with four partner countries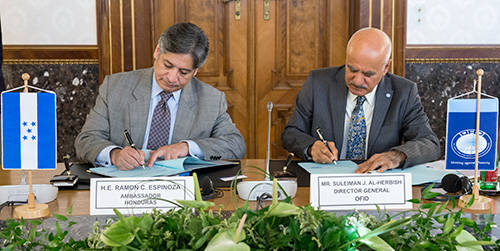 HE Ramon Custodio Espinoza, Ambassador of Honduras to Germany and
HE Ramon Custodio Espinoza, Ambassador of Honduras to Germany andOFID Director-General Mr Suleiman J. Al-Herbish sign a loan agreement for a public transport project.
Vienna, Austria. On August 19, 2014, OFID Director-General, Mr Suleiman J. Al-Herbish, signed loan agreements totalling US$62 million with partner countries Bolivia, Burkina Faso, Honduras and Zambia.
In Bolivia, a US$20 million loan will contribute to the improvement of the transport sector by expanding a heavily travelled corridor known as the Cochabamba Highway.
A US$24 million loan to Burkina Faso will co-finance the construction of the New Ouagadougou Donsin International Airport to increase the air transport capacity in the capital city. The agreement was co-signed by
In Honduras, a US$8 million loan will co-fund the Central District (Tegucigalpa Comayaguela) Public Transport Project, which will help to improve the transport system used by nearly one million people.
A US$10 million loan extended to Zambia for the Three Technical Colleges Project will co-finance the construction of higher-education facilities in underserved areas.