OFID signs loan agreement with Uganda to help bring energy to underserved communities
OFID signs loan agreement with Uganda to help bring energy to underserved communities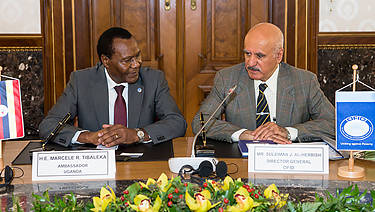 OFID Director-General Suleiman J Al-Herbish (right) and HE Marcel R. Tibaleka, Ugandan Ambassador to Germany
Vienna, Austria, November 5, 2014. Suleiman J Al-Herbish, the Director-General of the OPEC Fund for International Development (OFID), has signed a US$15m public sector loan agreement with Uganda to co-finance the Rural Electrification Project in Kayunga and Kamuli Service Territories project. The agreement was countersigned by HE Marcele Robart Tibaleka, Ambassador of Uganda to Germany.
The project will provide electrical connections to nearly 13,000 households (approximately 235,000 people) and provide electricity to schools, health centers, agricultural enterprises and other vital infrastructure.
At the signing ceremony, Al-Herbish highlighted how the project fell within the framework of Goal 7 of the Sustainable Development Goals, of which OFID was a strong proponent. The Director-General highlighted OFID's pioneering role in UN Secretary General Ban Ki-Moon's Sustainable Energy for ALL (SE4All) initiative and presented the Ambassador with the book Energy: The Key for Sustainable Development, which contain a selection of statements Al-Herbish delivered to champion the cause of energy poverty eradication.
The Ambassador thanked the Director-General for OFID's support and overall contribution to the wellbeing of Uganda's people and remarked that "energy is the source of everything. Without energy there can be no economic activity and therefore, no development."
The provision of modern energy in the project region will help boost food security and incomes as the project area encompasses large expanses of agricultural land used for growing subsistence and cash crops. In its first year of operation, the project is expected to electricity coverage from the current 6% to 27%, which will help reduce poverty and urban migration, and enhance living standards. Read more about OFID's public sector lending in Uganda