OFID signs loan agreement with Maldives to strengthen water supply and sanitation sector
OFID signs loan agreement with Maldives to strengthen water supply and sanitation sector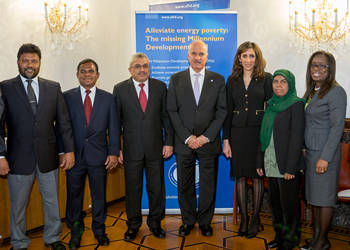 OFID Director-General Mr Suleiman J Al-Herbish flanked by HE Mr Abdulla Jihad,Minister of Finance and Treasury of the Maldives.
February 28, 2014, Vienna, Austria. OFID Director-General Mr Suleiman J Al-Herbish has signed a US$20m public sector loan agreement with the Maldives for the Outer Islands Water Supply and Sewerage Facilities Project. The agreement was co-signed by HE Abdulla Jihad, Minister of Finance and Treasury of the Maldives.
The aim of the project is to help improve the health and living conditions of approximately 12,000 people residing in five islands through the provision of safe water and sanitation services.
At the signing ceremony, the Finance Minister said that his country was pleased to be associated with OFID and thanked Mr Al-Herbish for OFID's longstanding assistance it had provided to the Maldives. Mr Al-Herbish said that OFID had enjoyed its cordial relationship with the country and looked forward to cooperating in future projects.
OFID has supported socio-economic development in the Maldives since 1977. Since then, nearly US$60m in public sector loans have been extended; including balance of payments support and co-financing projects in the water supply and sanitation, transportation, health, agriculture, telecommunications, education and national development banks sectors. Read more here
In addition, a total of US$16.5m in private sector lending has been extended, which includes one loan and line of credit to Maldives Finance Leasing Company and loans to Wataniya Telecom and the Villa Shipping and Trading Company.
Grant assistance includes emergency aid and support of initiatives aimed at strengthening the agriculture, health and transportation sectors in the Maldives.
Read press release about a previous high-level mission OFID made to the Maldives.