OFID signs loan agreement with Cuba for water supply and sanitation project
OFID signs loan agreement with Cuba for water supply and sanitation project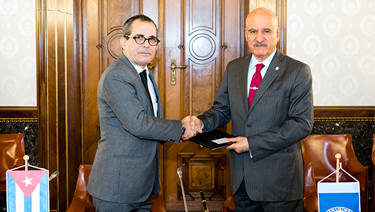 OFID Director-General Suleiman J Al-Herbish (right) with HE Juan Antonio Fernández Palacios, Ambassador of Cuba to Austria.
February 15, 2016, Vienna, Austria. The OPEC Fund for International Development (OFID) has signed a public sector loan agreement with Cuba to improve access to safe drinking water and provide basic sanitation services in Trinidad City and neighbouring townships. This will, in turn, help improve health indicators and living conditions for over 30,000 people.
The US$25m agreement will help finance, along with the Cuban Government, the Trinidad Water Supply and Sanitation System Modernization Project. The agreement was signed by OFID Director-General Suleiman J Al-Herbish and HE Juan Antonio Fernández Palacios, Ambassador of Cuba to Austria.
During the signing ceremony, Mr Al-Herbish noted that the project fell within the framework of OFID's intensified focus on the water-food-energy nexus, and pointed out that 60% of OFID's commitments to Cuba had been allocated to water and sanitation projects.
Ambassador Palacios thanked Mr Al-Herbish for OFID's support of the township of Trinidad, which had been made a UNESCO World Heritage Site. He also expressed his country's pleasure in working with OFID over the years and extended his congratulations to OFID for its 40th anniversary.
Once the Trinidad project is complete, beneficiary communities will be able to receive a minimum supply of 265 liters/person/day of drinking water, with an average continuous service of at least 16 hours. The project is also expected to attract more investments and strengthen the already flourishing local tourism activities in the city.
Including the newly signed loan, OFID has approved over US$183m in public sector funding in support of sectors deemed high priority by the Cuban Government; water supply and sanitation, agriculture and energy. OFID has also extended regional and national grants to the country in the areas of agricultural research, HIV/AIDs prevention and treatment and emergency aid, among others.