OFID signs loan agreement with China
OFID signs loan agreement with China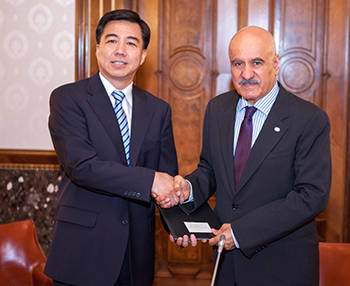 H.E. Zhao Bin, Ambassador PR China  with OFID Director-General Al-Herbish
On February 14, 2013 OFID has signed a loan agreement with China to support the development of the country's education sector. The agreement was signed by OFID Director-General, Mr. Suleiman J. Al-Herbish, and HE Zhao Bin, Ambassador of the People's Republic of China to Austria.
The US$18 million loan will co-finance the expansion of four vocational secondary schools in the prefectures of Linxia and Dingxi. The newly renovated schools will provide more than 19,000 students with the skills needed to obtain lucrative employment, in turn improving the quality of life for thousands of families in the regions.
OFID and China have been partners in development since 2007, when a US$16 million public sector loan was approved to co-finance a project aimed at expanding and equipping four vocational colleges in the Yunnan Province's capital Kunming. Subsequent approvals will help strengthen the countries water supply and sanitation and health sectors.