OFID signs loan agreement with Cambodia for rural electrification project
OFID signs loan agreement with Cambodia for rural electrification project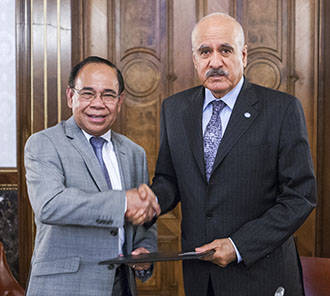 Cambodian Ambassador HE Mr Saem Hem with OFID Director-General Al-Herbish
Vienna, Austria, March 8, 2103. OFID Director-General Mr. Suleiman J. Al-Herbish has signed a US$10 million loan agreement with Cambodia for the Medium Voltage Sub-Transmission Expansion Project. The aims of the project are to increase electricity access in impoverished rural communities in five provinces (Kampong Thom, Kampong Cham, Siem Reap, Kandal and Banteay Meanchey) in central Cambodia. HE Mr Saem Hem, Ambassador of Cambodia to Belgium, Austria, The Netherlands, Luxembourg and the EU co-signed the agreement.
During the ceremony, Mr. Al-Herbish said that "OFID has enjoyed a very successful relationship with Cambodia since 1996. We are pleased to be able to include the country in our flagship Energy for the Poor Initiative." The Ambassador thanked OFID for its cooperation and expressed his hope that OFID would "maintain its support and help Cambodia to boost growth and continue to improve the lives of its people."
The project will help address the country's increasing energy demands, which will improve households' access to grid electricity. The project will also contribute to job creation, and help strengthen the tourism industry as well as commercial and agricultural activities. At least 3.3 million people are expected to benefit from the expanded network.
Read more about OFID's operations in Cambodia.