OFID signs loan agreement with Bosnia & Herzegovina for rural development project
OFID signs loan agreement with Bosnia & Herzegovina for rural development project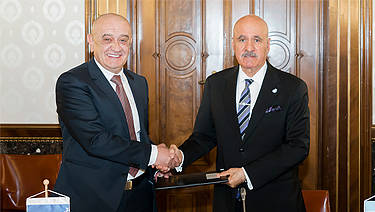 From left: HE Vjekoslav Bevanda, Minister of Finance and Treasury of Bosnia and Herzegovina, and OFID Director-General Suleiman J Al-Herbish.
Vienna, Austria, April 27, 2016. The Director-General of the OPEC Fund for International Development (OFID), Suleiman J Al-Herbish, has signed a US$5.35m loan agreement with Bosnia and Herzegovina for a project that will help improve incomes of about 20,000 rural households in high poverty areas spread across 47 municipalities. The agreement was co-signed by HE Vjekoslav Bevanda, Minister of Finance and Treasury of Bosnia and Herzegovina.
At the signature ceremony, HE Bevanda thanked OFID for it support and said that the newly-signed loan would help beneficiary communities to resume normal activities and enjoy a better life in a country still facing various development challenges following years of civil unrest.
Al-Herbish spoke of OFID's relationship with the country and said he looked forward to continuing their fruitful cooperation. He said he hoped to return to BiH, referring to his high-level mission to the country in 2010.
Components of the present project include, among other activities:
Since begining its cooperation with partner country BiH nearly 20 year ago, OFID has approved over US$140m in public sector lending that helped reconstruct damaged homes and schools, build and upgrade roads and supported projects aimed at reviving the country's agriculture sector. Under its private sector facility, OFID has extended over US$21m to banks in BiH that on-lend to small and medium-sized enterprises (SMEs). OFID has also extended national and national grants of nearly US$2.9m, the majority of which comprised humanitarian aid.