OFID signs grant agreement with RCREEE to boost sustainable energy education in Arab Region
OFID signs grant agreement with RCREEE to boost sustainable energy education in Arab Region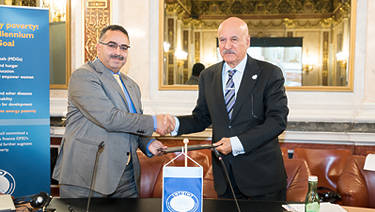 OFID Director-General Suleiman J Al-Herbish and Dr Ahmed Badr conclude the signature of a new grant agreement.
November 8, 2016, Vienna, Austria. OFID Director-General Suleiman J Al-Herbish and Dr Ahmed Badr, Executive Director of the Regional Center for Renewable Energy and Energy Efficiency (RCREEE), have signed a US$150,000 grant agreement in support of the Arab Program for Sustainable Energy Youth (APSEY)— a regional sustainable energy internship program aimed at boosting technical and operational capacities of youth interested in the renewable energy and energy efficiency fields.
During the ceremony, Al-Herbish spoke of OFID's relationship with RCREEE and referred to his visit to the institution's headquarters in Cairo, Egypt, in November of last year, when he and Dr Walid Mehalaine, Acting Head of OFID's Grants Unit, attended the graduation of APSEY students sponsored under an earlier OFID grant.
Dr Badr was assured of OFID's continuing cooperation, particularly in light of the positive feedback that was received first-hand from the graduating students. Mr Al-Herbish said OFID's support to programs such as APSEY demonstrated that it put into practice what it promoted, especially with regard to fighting energy poverty. Dr Badr thanked the DG for OFID's support and said that RCREEE looked forward to deepening its partnership.
The newly-signed grant agreement will specifically support the participation of 12 interns from Yemen, Sudan, Palestine, Djibouti, Mauritania, Somalia and Syria for a two-year period, starting from November 2016 to November 2018.
RCREEE is an independent not-for-profit regional organization which aims to enable and increase the adoption of renewable energy and energy efficiency practices in the Arab region. It was set up based on the Cairo Declaration which was signed in June, 2008 by government representatives from 10 Arab countries.