OFID signs grant agreement to help boost energy access in rural Burundi
OFID signs grant agreement to help boost energy access in rural Burundi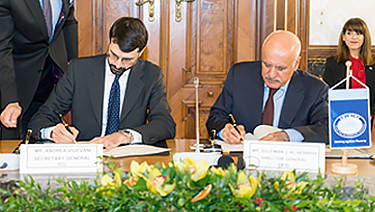 OFID Director-General Suleiman J Al-Herbish (right) and ICU Secretary-General Andrea Vigevani.
Vienna, Austria, December 17, 2015. The OPEC Fund for International Development (OFID) has signed a grant agreement with the Istituto per la Cooperazione Universitaria Onlus (ICU) to enhance access to modern energy services in four rural areas of Burundi. The US$500,000 agreement was signed by OFID Director-General Mr Suleiman J Al-Herbish and ICU Secretary-General Andrea Vigevani.
During the signing ceremony, Mr Vigevani thanked the Director-General for OFID's support and said that "OFID was leading other donors in combating energy poverty."
OFID's grant will help fund a project that will rehabilitate four power plants in Ryarusera, Kigwena, Butezi and Nyabikere and strengthening the capacity of the country's Rural Electrification Agency. As a result, nearly 46,000 people will be able to enjoy better living standards and incomes.
OFID and ICU
OFID has extended two earlier grants to ICU totaling US$750,000. One helped develop artisanal fisheries and aquaculture resources in Peru, benefiting nearly 22,000 artisanal fishermen. Another helped fund an initiative aimed at helping improve health and nutritional status in rural areas of the Cachiquel region in the Chimaltenango department in Guatemala, thereby helping boost food security and improve the lives of almost 24,000 individuals.