OFID reiterates commitment to alleviate energy poverty at WFES 2013
OFID reiterates commitment to alleviate energy poverty at WFES 2013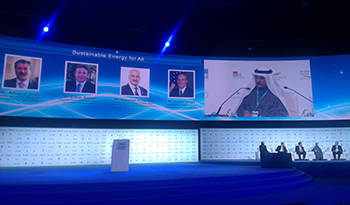 OFID Director-General Al-Herbish at the "Sustainability Energy for All" Ministerial Panel
January 17, 2013. OFID Director-General Mr Suleiman J. Al-Herbish headed an OFID delegation that attended the World Future Energy Summit (WFES), one of the major conferences that took place during Abu Dhabi Sustainability Week 2013.
On January 15, the Director-General participated at a Ministerial Panel entitled "Sustainable Energy for All", which was moderated by UNIDO Director-General Mr Kandeh Yumkella, Special Representative and Chief Executive of the UN Sustainable Energy for All Initiative.
In Mr. Al-Herbish's opening remarks, he said "Energy has always featured high on OFID's agenda since its inception in 1976. And since 2007, after the Third Summit of OPEC's Heads of State, energy poverty alleviation has become the flagship of our institution." In the fight against poverty, the eradication of energy poverty should be the "first and overriding priority," he stated.
Mr. Al-Herbish went on to talk about a commonly-held misconception that OPEC Member Countries did not support the use of renewables. "This could not be further from the truth," asserted Al-Herbish, "As most OPEC Member Countries are making their upmost effort to increase the use of renewables in their energy mix, and will continue to do so."
OFID's assertions on energy poverty alleviation coincided with remarks made in keynote speeches by Her Majesty Queen Rania Al Abdullah of Jordan and Argentina's President Cristina Fernandez de Kirchner, who spoke of the importance of providing sustainable forms of energy, particularly in the areas of renewables, in eradicating poverty and promoting sustainable development.