OFID observes World Refugee Day
OFID observes World Refugee Day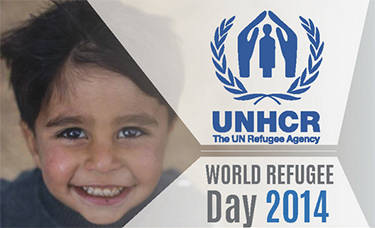 June 20 marks the United Nations World Refugee Day to encourage common recognition of the resilience of forcibly displaced people throughout the world. For World Refugee Day 2014, the UN Refugee Agency, UNHCR, will continue their global 1 Campaign, with the theme: 1 family torn apart by war is too many.
OFID recognizes the vast number of challenges being faced by refugees worldwide, and has extended numerous grants to help provide medical and hygiene items, healthcare services, food and drinking water supplies, among other urgently-needed items. This assistance has also helped host communities that themselves have limited resources and insufficient facilities for accommodating the vast influx of refugee populations.
This aid has been channeled through specialized relief agencies, such as the UNHCR, the Arab Red Crescent Society, Islamic Relief, the International Federation of Red Cross and Red Crescent Societies, the United Nations Relief and Works Agency for Palestine Refugees in the Near East and the World Food Program, among many others. Read more about OFID's emergency aid operations.
In 2014 alone, OFID has extended over US$1m in humanitarian assistance for both internally and externally displaced populations, such as Syrian refugees in Jordan and South Sudan's refugees in Uganda, Ethiopia, the Sudan and Kenya.
Under its special grant program for Palestine, OFID has provided grant assistance to lay foundations for the empowerment of Palestinians in the West Bank and Gaza Strip, as well as for those in refugee camps in neighboring countries. This has included the reconstruction of the Nahr el Bared Palestinian refugee camp in Lebanon to build three new schools and a vocational training center at the camp. Read leaflet OFID and Palestine: A special solidarity.