OFID/IAS hold AIDS consultative meeting
OFID/IAS hold AIDS consultative meeting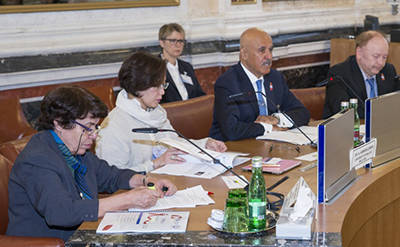 Overcoming HIV in Conservative Social Settings
April 30, 2014, Vienna, Austria. OFID, in cooperation with the International AIDS Society (IAS), hosted a consultation meeting from April 29-30 under the theme Overcoming HIV in Conservative Social Settings . The main objective of the meeting was to create a forum for scientific exchange and sharing of best practices on implementing HIV programs and research within conservative social settings. The event brought together scientists, policy makers, program implementers and religious leaders to share their experiences and expertise in the HIV response.
The workshop served as a platform for promoting networking and cooperation among professionals engaged in the HIV response, as well as to create opportunities for better coordination and cooperation among OPEC Member Countries. At the end of the meeting, participants defined key questions, challenges and recommendations that can positively influence policy and practice for a more effective HIV response, and pave the way for active dialogue in the lead-up to the AIDS 2014 Conference in Melbourne.
OFID Director-General Mr Suleiman J Al-Herbish delivered opening remarks, followed by a statement from Dr Adeeba Kamarulzaman, IAS, Governing Council, and a keynote speech by Dr Yamina Chakkar, Director, UNAIDS Regional Support Team for the MENA Region. Mr Rachid Bencherif, Head of OFID's Grant Unit, moderated the opening session.
Opening remarks of OFID Director-General Mr Suleiman J Al-Herbish
In his remarks, Mr Al-Herbish spoke of OFID's "successfully partnering" with the IAS, having sponsored the organization's biennial international AIDS conferences for nearly a decade. He promised that OFID would continue to be a "dedicated partner" at these conferences.
The Director-General briefed participants on OFID's response to the HIV/AIDS epidemic, which the institution began in 2002. He explained that OFID had provided US$85m in outright grants for "concrete actions" that covered a wide spectrum of effective AIDS responses that included prevention, treatment, care and support services, mother-to-child prevention and programs that addressed stigma and discrimination.
Mr Al-Herbish asserted that a future free of AIDS would only be possible when various barriers such as punitive laws and social exclusion were removed and that a concerted effort was needed to "reach all people who lack access to HIV treatment and services."
Read speech in full
Remarks of Dr Yamina Chakkar, Director, UNAIDS Regional Support Team for the MENA Region
Dr Yamina Chakkar, who spoke on behalf of UNAIDS Executive Director Mr Michel Sidibé, outlined some of the challenges being faced in the MENA region owing to deep-rooted stigma and discrimination against people living with HIV/AIDS (PLHIV). Dr Chakkar highlighted "landmark initiatives and opportunities" carried out by UNAIDS and other key players that were laying a foundation for ending the epidemic.
One noteworthy example was the Arab AIDS Strategy, which was recently endorsed by the Council of the Arab Ministers of Health and represented a "historical landmark in the regional HIV response." The strategy was prepared under the leadership of the League of Arab states and "champion countries" such as the Kingdom of Saudi Arabia.
Dr Chakkar thanked OFID for its "generous and catalytic funding" it had provided over the years to the MENA region that helped strengthen more effective responses from the regional networks of civil society and PLHIV associations.
Dr Adeeba Kamarulzaman, Governing Council of the IAS
Dr Adeeba Kamarulzaman from the Governing Council of the IAS spoke about HIV/AIDS prevalence among injecting drug users in Bangladesh, Malaysia, Indonesia and central Asia. She outlined the constraints in providing evidence-based HIV prevention in these regions owing to conservative settings. These included stigma, drug addiction being viewed as a moral failing - rather than a medical condition - lack of human resources and funding and lengthy jail sentences for drug-related offenses.
These constraints had resulted, noted Dr Kamarulzaman, in the rising incidence of HIV, as high-risk groups were reluctant to seek testing and treatment. Dr Kamarulzaman cited studies that reflected the effectiveness of harm-reduction interventions, such as sterile needle and syringe distribution programs, methadone treatment, as well as establishing government policies that treated drug addiction as a disease.