OFID hosts SE4ALL Energy Access Committee meeting
OFID hosts SE4ALL Energy Access Committee meeting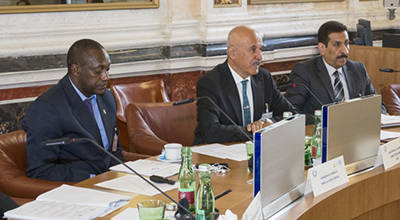 April 28, 2014, Vienna, Austria. OFID hosted the first Sustainable Energy for All (SE4ALL) Energy Access Committee meeting. The meeting was chaired by OFID Director-General Mr Suleiman J Al-Herbish and Dr Kandeh K Yumkella, UN Special Representative of the Secretary-General for SE4ALL and CEO of the initiative. Co-chairs included:
The purpose of the meeting was to prepare the committee's input to the SE4ALL high-level event scheduled to take place in New York from June 4-6, 2014, which will serve as the formal global launch of the UN Decade of Sustainable Energy for All. The SE4ALL Energy Access Committee will present recommendations and initiatives to the SE4ALL Advisory Board at the meeting. Mr Al-Herbish is a member of the Board, which is responsible for supervising the implementation of the initiative, under the co-chairmanship of UN Secretary-Genera Mr Ban Ki-moon and World Bank President Dr Jim Yong Kim.
In his opening remarks, Mr Al-Herbish reaffirmed OFID's commitment to work with its partners and actively support the goals of the SE4All Initiative by stepping up its interventions at both an advocacy and operational level.
The former included OFID's participation in the 14th Ministerial Meeting of the International Energy Forum in Moscow on May 15-16, 2014. "We intend to lobby for the eradication of energy poverty to be included in the post-2015 agenda as a Sustainable Development Goal," said Mr Al-Herbish.
He also spoke of his plan to speak at the World Petroleum Congress on Corporate Social Responsibility (CSR), where he would "urge the oil and gas industry to contribute to the cause of universal energy access, as the main channel for their CSR." This call, noted the Director-General, would be repeated in November when OFID would co-host, with the World Petroleum Council, a petroleum companies' symposium on the issue of CSR and energy access.
Mr Al-Herbish also talked about OFID's strategic direction for the next decade, which would enhance its investments in not just the energy sector but also the key areas of agriculture and water, as well as transportation, as a unified approach was needed to eradicate energy poverty. He highlighted OFID's new strategic emphasis on mini-grid schemes as they were critical in helping achieve universal electricity access.
Read speech in full