OFID extends trade finance loan to Honduran commercial bank
OFID extends trade finance loan to Honduran commercial bank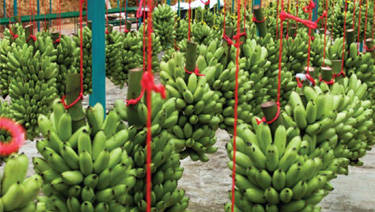 Bananas are one of the country's leading export crops. Photo: Banco Ficensa
Vienna, Austria, June 3, 2015. The OPEC Fund for International Development (OFID) has signed an US$8m trade finance term loan with Banco Financiera Centroamericana S.A. (Banco Ficensa), Honduras. The funds will be made available for the financing of imports and exports of a wide variety of products.
Banco Ficensa is the ninth largest bank in Honduras, with a clear focus on wholesale banking and trade finance. Foreign trade is very important for Honduras' economic development. The country's leading export goods are coffee and bananas and on the import side petroleum products and machinery.
The agreement was signed by the Director General of OFID, Mr Suleiman J Al-Herbish and Banco Ficensa CEO Mr Roque Rivera.
OFID and Honduras have been partners in development since 1976, with the provision of balance of payments support. Subsequent public sector loans totaling nearly US$160m have helped boost the country's transportation, agriculture, energy, water supply and sanitation and health sectors. Under OFID's private sector and trade finance facilities, funding has been extended in support of Honduras' energy sector and SMEs. The country has also been the recipient of regional and national grants in the areas of agricultural research, education, energy, HIV/AIDS mitigation and emergency assistance.