OFID extends humanitarian assistance to victims of volcanic eruption in Guatemala
OFID extends humanitarian assistance to victims of volcanic eruption in Guatemala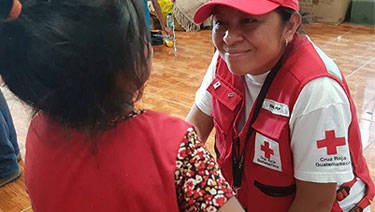 Photo: Guatemala Red Cross
June 19, 2018, Vienna, Austria. OFID - the OPEC Fund for International Development - has approved a US$100,000 emergency aid grant to the International Federation of Red Cross and Red Crescent Societies (IFRC) to support humanitarian operations being carried out by the Guatemalan Red Cross for victims of a recent volcanic eruption.
Guatemala's Fuego volcano, located 40 km southwest of Guatemala City, has been deemed the most devastating eruption the country has seen in more than four decades. Guatemalan authorities have declared a state of emergency in the departments of Escuintla, Sacatepéquez and Chimaltenango. More than 100 people have been killed, 200 are still missing and over 12,000 people have been evacuated.
The IFRC has launched an international emergency appeal with the aim of delivering humanitarian assistance for a 12-month period to approximately 6,000 of the most vulnerable survivors of the disaster. High priority needs include shelter, medical care and food, as well as water, sanitation and hygiene services.
OFID has a strong relationship with the IFRC, having extended emergency aid grants in support of 71 operations totaling nearly US$21 million.