OFID extends grant to UNHCR to assist displaced Syrians
OFID extends grant to UNHCR to assist displaced Syrians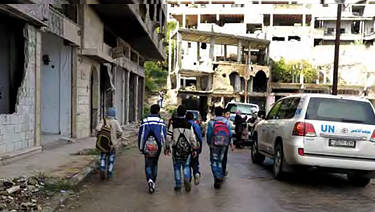 photo: UNHCR/Z.Mreyoud 2015
Vienna, Austria, April 13, 2016. The OPEC Fund for International Development (OFID) has approved an emergency grant to the UN High Commissioner for Refugees (UNHCR) in support of an operation aimed at upgrading shelters in areas with a high concentration of vulnerable, internally-displaced populations in Syria.
UNHCR has carried out needs assessments and field missions that concluded the most vulnerable people are those living in damaged and unfinished buildings, as inadequate living conditions exacerbate their health needs and food insecurity. Without homes or with sub-standard shelter options, displaced families, particularly women and children, are at risk of physical harm, violence and disease. This is particularly applicable to those with disabilities and the elderly who lack family support and often must depend on charities and temporary assistance to survive.
The areas targeted under the UNHCR project are the governorates of Aleppo, Homs and Rural Damascus, which are hosting around three million displaced individuals—nearly one-half of the entire country's refugee population. Upgrading works will be carried out to improve living conditions in unfinished buildings at various stages of completion. The buildings earmarked for selection must be connected to public services; in particular water, sanitation and electricity.
Proceeds from OFID's US$300,000 grant will directly benefit over 1,000 people. Since OFID began its cooperation with UNHCR, it has extended grants totaling nearly US$6.7m for victims of various humanitarian crises.
OFID is dedicating its 40th anniversary celebration to activities that highlight the plight of refugees. This dedication is intended as a mark of solidarity between OFID and the countless number of refugees in dire need of aid.
Since its inception, OFID has supported refugees through its grants facility. In addition to the UNHCR, OFID has had longstanding cooperation with the UN Relief and Works Agency for Palestinian Refugees in the Near East, and the International Federation of Red Cross and Red Crescent Societies, among others.