OFID extends emergency assistance in aid of Syrian refugees
OFID extends emergency assistance in aid of Syrian refugees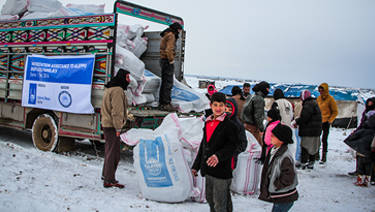 Photo: Islamic Relief Worldwide
December 21, 2016, Vienna, Austria. The OPEC Fund for International Development (OFID) has approved an emergency assistance grant in support of aid operations being carried out by Islamic Relief Worldwide (IRW). Grant proceeds will be used to procure and distribute 2,000 winter kits, benefiting over 12,000 individuals.
The number of internally displaced persons in Syria is on the rise, with millions in urgent need of shelter and food, as well as clothes and non-food items.IRW, through its Switzerland office, is seeking support of its winterization project that will target the most vulnerable persons who have fled Aleppo, such as the disabled, pregnant women and families with children. Under the initiative, IRW will provide those in need with winter kits, including blankets, mattresses and plastic sheets and plastic mats.
OFID has previously extended four emergency grants totaling US$1.05m to IRW in support of vulnerable populations in Syria. IRW is a UK-based international relief agency that works in more than 40 countries providing emergency aid and carrying out long-term development activities.