OFID extends condolences to Member Country Venezuela on death of President Chavez
OFID extends condolences to Member Country Venezuela on death of President Chavez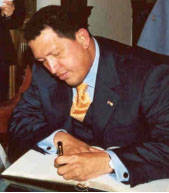 President Chávez signing OFID's guestbookduring his visit of October 17, 2001.
March 6, 2013. OFID has offered its condolences to Member Country Venezuela on the passing of its President Hugo Rafael Chávez Frías, who died on March 5 after a long battle with cancer. The President was a staunch supporter of OFID, and is the only serving Member Country head of state to visit the institution.
During his visit, which took place on October 17, 2001, President Chávez spoke warmly of the OPEC Fund and said that despite its modest size, it had accomplished much that was "of immense importance to millions of poor people around the world." He stressed the need for fellow OPEC Fund countries to strengthen the institution further and help it grow, saying it was "the duty of OPEC Member Countries and, indeed, of the entire world, to help build a better world for all and to seek justice and peace."
OFID Director-General Mr Suleiman J. Al-Herbish has written to Venezuelan Vice President Nicolas Maduro to extend his condolences on behalf of the institution. In a tribute today, Mr Al-Herbish recalled his personal meetings with President Chávez and praised his warmth and commitment to his cause of eradicating poverty. The Director-General said that this commitment had recently been reflected in the ratification by the Venezuelan Government of its pledge to contribute to the US$1 billion replenishment of OFID's resources.
Mr Al-Herbish also recalled President Chávez's stand on energy for the poor, which was highly visible through Venezuela's regional initiatives such as Petrocaribe and ALBA. These initiatives had brought "hope and progress" to many people, he added, and represented a legacy that would endure for many years to come. In conclusion, Mr. Al-Herbish read the note that President Chávez had written in the OFID Guest Book in 2001: " My biggest recognition to all our brothers of the OPEC FUND for their hard work, we are at your entire disposal to continue cooperating in fulfilling the noble task to help as many human beings as possible. It is the best way to strengthen OPEC, and it is likewise, the best way to live."
A one-minute silence was observed by OFID staff in a special gathering on Wednesday, March 6, to pay homage to the late President.
Read article about the President's 2001 visit to OFID.