OFID Director-General delivers keynote at VEF 2015
OFID Director-General delivers keynote at VEF 2015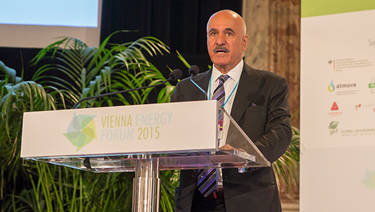 OFID Director-General Suleiman J Al-Herbish urges partner countries to place energy poverty eradication high on their agendas.
June 18, 2015, Vienna, Austria. At the high-level panel session Ending Energy Poverty - Concrete Commitments and Action on the Ground at the Vienna Energy Forum (VEF) 2015, OFID Director-General Suleiman J Al-Herbish delivered a keynote speech urging partner countries to set a higher priority to energy access projects in their national plans and in poverty reduction strategy papers.
The session, which took place on June 18, focused on key challenges in achieving universal access to modern energy and discussed enabling factors, as well as concrete strategies required to end energy poverty globally.
Participating in the panel were, among others, Kandeh Yumkella, UN Secretary-General's Special Representative for Sustainable Energy for All and CEO of the Sustainable Energy for All (SE4All) initiative; HE Esteban Albornoz Vintimilla, Minister of Electricity and Renewable Energy, Ecuador; Martin Hiller, Director-General, Renewable Energy and Energy Efficiency Partnership (REEEP); and Sam Parker, Director of the Shell Foundation.
In his statement, Al-Herbish outlined OFID's instrumental role in "pushing energy poverty up the global action agenda." He pointed out that since the Third OPEC Summit in 2007, which proclaimed energy poverty eradication a common objective of all OPEC aid institutions, OFID had committed over US$1.4bn to its energy operations. This included the co-financing of 35 projects that would deliver an extra 7500MW of electricity and extend electricity grids by 26,000km.
"The sheer magnitude of the funds needed to combat energy poverty underlines the need for contributions from all stakeholders: concerned governments, the international donor community, civil society and the private sector. This suggests that development priorities will have to be modified, policies adjusted and attitudes changed," stressed Al-Herbish.
He also spoke of OFID's fruitful partnerships with a wide range of stakeholders—not just to leverage resources but also to pool expertise and pursue new opportunities.
One such example was OFID's new alliance with the petroleum industry in collaboration with the World Petroleum Council (WPC). During his recent participation in the recent WPC leadership conference on Responsibility, Cooperation and Sustainability in Norway, Mr Al-Herbish urged oil and gas companies to "once again work together to foster energy access within the framework of the SE4ALL initiative."
Al-Herbish said that since energy poverty alleviation had been included as Sustainable Development Goal 7, OFID looked forward to "building on this momentum and maximizing the impact of its Energy for the Poor Initiative."
In conclusion, he paid tribute to his "dear brother and friend" Kandeh Yumkella, who he was privileged to have worked closely with for so many years on a topic they both cared about very deeply.
"It is through your strong leadership and counsel that SE4All has made such great achievements, and I am sure that I am speaking for all of us when I say that you will be greatly missed."
Yumkella will be stepping down from his post as UN Secretary-General's Special Representative for its SE4ALL Initiative next month.
At the closing ceremony of the forum on June 20, UNIDO Director-General LI Yong presented Al-Herbish with an award to thank OFID for its support and contribution to the forum over the years. Special thanks was also given for OFID's leading role in the fight against energy poverty.