OFID commemorates International Day of Solidarity with the Palestinian People
OFID commemorates International Day of Solidarity with the Palestinian People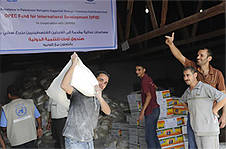 OFID Quarterly
November 29 marks the International Day of Solidarity with the Palestinian People, which has been celebrated since 1979. It provides an opportunity for the international community to focus its attention on the fact that the question of Palestine is still unresolved and that, as defined by the UN General Assembly, the Palestinian people are yet to attain their inalienable rights which are:
The relationship between OFID and the Palestinian people dates back more than three decades. During this time, OFID has provided a number of loans and grants, to lay foundations for the empowerment of Palestinians in the West Bank and Gaza Strip, as well as for those in refugee camps in neighboring countries.
Today, these people are enduring one of the most challenging periods of their turbulent history. Despite these challenges, however, their life must go on. Palestinians still need to support themselves, they still need to raise and educate their children, and they still need the basic essentials such as food and shelter.
Recognizing this, OFID places the suffering of the Palestinian people among one of its highest priorities. In uniting with the Palestinian people, OFID has co-financed close to 500 projects and programs, extending valuable lifelines to this vulnerable population as they pursue their dream of an independent and secure Palestinian State. All operations have been implemented through partnerships with international and regional development organizations and some 90 Palestinian NGOs in the West Bank and around 160 NGOs operating in the Gaza Strip. Read more about OFID's Palestine Grant Program.
OFID's grant approvals in 2013 (up to November 30):
Read leaflet OFID and Palestine: A special solidarity
SPACE TIME DIGNITY RIGHTS – Improving Palestinian Refugee Camps. Should Palestinian refugee camps have public spaces? Is the sense of belonging to a street or neighborhood within a refugee camp an identity worth preserving? How can individual choices be balanced vis-à-vis the interests of the entire refugee community - including the right to refuse to participate in camp improvement? This UNRWA exhibition will be hosted by OFID at its headquarters in Vienna, Austria, from January 29 until February 13, 2014. The exhibition will explore how Palestinian refugees answer these and other questions. It will also showcase groundbreaking community participation in urban planning that is improving some of the world's most impoverished areas - the Palestinian refugee camps in the Middle East. The exhibition will be open to the public.
OFID welcomes Palestinian President to Vienna HQ. From July 2013 issue of the OFID Quarterly.
Palestine: cultivating hope by empowering youth. From April 2011 issue of the OFID Quarterly.
Palestine: When taking a chance pays dividends. From July 2012 issue of the OFID QuarterlyMicro-finance: A lifeline for Palestinians. From Jan 2011 issue of the OFID Quarterly