OFID commemorates International Day of Solidarity with the Palestinian People
OFID commemorates International Day of Solidarity with the Palestinian People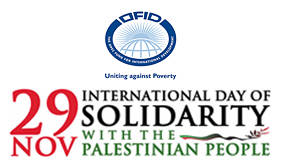 The resilience and dignity of the Palestinian people in the face of such prolonged adversity is an inspiration to us all. OFID will continue doing all within its means to make their lives easier and their hopes for the future a reality
November 29 marks the International Day of Solidarity with the Palestinian People, which has been celebrated since 1979. It provides an opportunity for the international community to focus its attention on the fact that the question of Palestine is still unresolved and that, as defined by the UN General Assembly, the Palestinian people are yet to attain their inalienable rights.
"The resilience and dignity of the Palestinian people in the face of such prolonged adversity is an inspiration to us all. OFID will continue doing all within its means to make their lives easier and their hopes for the future a reality."—OFID Director-General Suleiman J Al-Herbish.
The relationship between OFID and the Palestinian people dates back to nearly four decades. During this time, OFID has provided a number of loans and grants to lay foundations for the empowerment of Palestinians in the West Bank and Gaza Strip, as well as for those in refugee camps in neighboring countries.
Recognizing this, OFID places the suffering of the Palestinian people among one of its highest priorities. In uniting with the Palestinian people, OFID has co-financed hundreds of projects and programs, extending valuable lifelines to this vulnerable population as they pursue their dream of an independent and secure Palestinian State. Under its special grant program for Palestine, as of Sept 30, 2016, OFID had approved some US$120m to help fund a wide range of interventions. Read more about OFID's Palestine Grant Program.
Left: OFID Director-General Suleiman J Al-Herbish (far right) signs new grant agreement with Roberto Valent, Special Representative of the UNDP Administrator in Palestine (left) and HE Hussein Al Araj, Palestinian Minister of Local Government (center). Photo:UNDP
Building Hope for Palestinian Youth. From April 2019 issue of the OFID Quarterly.
Healthcare and youth employment a priority for Palestine From April 2016 issue of the OFID Quarterly.