OFID co-financed wind power plant inaugurated by King of Jordan
OFID co-financed wind power plant inaugurated by King of Jordan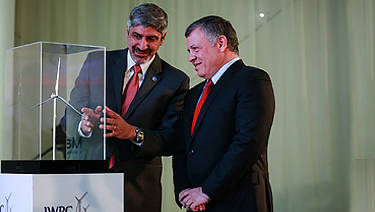 Photo: PRNewsFoto/AdvviseHis Majesty Kind Abdullah II (right) inaugurates the Tafila Wind Farm (with JWPC Chairman Samer Judeh)
Vienna, Austria, December 21, 2015. The Tafila Wind Project, the first and largest utility-scale operational wind power plant in Jordan and co-financed with a US$20m OFID loan, was recently inaugurated by His Majesty King Abdullah of Jordan.
The plant, located in Jordan's southern governorate, was connected to the national grid in September this year. The 117-megawatt facility is expected to produce around 400 gigawatt-hours of electricity annually, displacing some 235,000 tons of carbon emissions a year.
OFID's loan was extended to the Jordan Wind Project Company (JWPC), which owns and manages the Tafila plant. This loan supplemented resources from the International Finance Corporation (IFC), the European Investment Bank (EIB) and others, and represents OFID's fifth private sector contribution to the Jordanian energy sector.
Commenting on the project, OFID Director-General, Suleiman J Al- Herbish, described it as a "groundbreaking initiative with the potential to prove the financial viability of wind as an alternative energy source."
OFID's involvement, he added, was in line with its flagship Energy for the Poor Initiative and the recently-launched UN Sustainable Development Goals (SDGs); specifically, SDG7, which aims at "ensuring access to affordable, reliable, sustainable and modern energy for all."
The inauguration ceremony
Present at the launching ceremony were HRH Prince Talal, the King's special adviser and Prime Minister HE Abdullah Ensour, among other dignitaries, as well as JWPC Chairman, Samer Judeh.
At the event, Judeh delivered a speech, noting that: "The Tafila Wind Farm will contribute towards achieving energy security. The project is a quantum leap not only for Jordan but the Arab world as a whole, as it is the first to implement an effective solution for Jordan's energy challenges through a partnership between the public and private sectors. "
After announcing the official launch of the wind farm, King Abdullah toured the plant's facilities, and was given a briefing about its operations by Judeh.
Presently working at full capacity, the Tafila plant will account for three percent of the total energy being produced in Jordan. This will not only help meet the country's pressing energy demands but will also help diversify the Jordan's energy mix and reduce its reliance on gas-fired power plants.
The project is also expected to attract more private sector investment in the country in the area of renewable energy and serve as a model for other countries to follow.
JWPC is part of an international consortium that includes InfraMed Infrastructure Fund (France), Masdar (UAE) and EP Global Energy (Cyprus). The IFC and EIB arranged the financing of the project, while other participants in the lender syndicate included the Dutch Development Bank and the Europe Arab Bank, with the Export Credit Agency of Denmark providing a guarantee for a portion of the loans.