OFID attends 9th International Energy Conference
OFID attends 9th International Energy Conference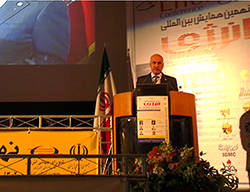 On February 20, 2013, OFID Director-General Mr. Suleiman J. Al-Herbish delivered a keynote speech at the 9th International Energy Conference (IEC), that held in Tehran, Iran. The event was organized by the Iranian National Energy Committee, a member of the World Energy Council.
The Conference created a forum for international discussion on all aspects of research, management, planning and policy-making in the energy sector. The title of this year's conference was Energy Prospect and International Convergence: Requirements, Opportunities and Constraints.
During his speech, Mr Al-Herbish stated that despite the uncertainty facing the energy sector "the struggle against energy poverty should be given higher priority". He said that the eradication of energy poverty would benefit both consumers and producers and called on the international energy community to "step up cooperation" by "diversifying operational solutions and financing schemes" to provide the best long-term outcome for poor countries to improve their energy access.
Read keynote speech in full
On the sidelines of the IEC, the Director-General met with high level officials, including the Minister of Economic Affairs and Finance of Iran and OFID Minister HE Dr Seyed Shamseddin Hosseini.