OFID approves new loans and grants to support development in 16 African countries
OFID approves new loans and grants to support development in 16 African countries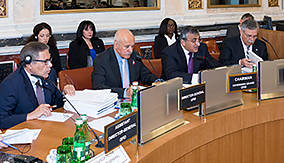 (from left to right) Fuad Albassam, Assistant Director-General, Operations;Suleiman J Al-Herbish, OFID Director-General; HE Abdulwahab A Al-Bader, Chairmanof the Governing Board; and, Saeid Niazi, Assistant Director-General, Financial Operations.
Vienna, Austria, December 11, 2013. Meeting in its 145th Session, the Governing Board of the OPEC Fund for International Development (OFID) has approved loans and grants to help boost socio-economic development in 16 African partner countries. Of the new commitments, nearly US$80m went to support nine public sector projects. The bulk of the public sector funding will co-finance the transportation, education, health, agriculture and water supply and sanitation and energy sectors. Under OFID's private sector, two financing facilities totaling US$25m were approved that will help strengthen the industry sectors in four African countries.
The approved public sector loans are as follows:
Three grants were also approved in support of the following projects/programs:
In addition to the public sector projects and grants approved at the meeting, two financing facilities totaling US$25m were approved through OFID's private sector lending window. One will help strengthen the key sectors of Micro Finance, SMEs and agribusiness in Kenya, while another will support a regional financial institution in expanding its lending to small and medium-sized enterprises in Kenya, Rwanda, Uganda and Tanzania for their industrial and commercial operations.
Since its inception, OFID has committed over US$15.7bn in much-needed concessional development financing to 134 developing countries around the world, with priority given to the poorest amongst them.