OFID approves grant to WFP to help deliver food aid to Korea DPR and eight African countries
OFID approves grant to WFP to help deliver food aid to Korea DPR and eight African countries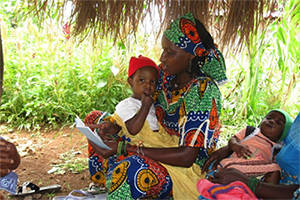 A mother reads a nutrition leaflet provided by WFP and partnersduring a nutrition programme distribution in Cameroon. Photo credit: WFP/Sylvia Ngwa
July 4, 2013, Vienna, Austria. The OPEC Fund for International Development (OFID) has approved an emergency assistance grant to help fund food aid operations in DPR Korea and eight countries in the Africa Sahel. The grant will be channelled through the World Food Program (WFP).
WFP has been operating in Korea DPR for a number of years to help combat the ongoing problem of under-nutrition among children and their mothers. The organization approached OFID to co-finance a new phase of its food aid program that aims at providing nutritional support to improve dietary diversity. This will be achieved through the purchasing of some 7,300 metric tons of food commodities that will include palm oil, maize, wheat and soya bean. The direct beneficiaries of the program will be over 350,000 pregnant women and over 1.5 million children.
In the Sahel region of Africa millions of people are severely affected by the aftermath of three successive droughts, high food prices and malnutrition. The WFP sent an appeal to OFID to support its ongoing food aid operations in the region. WFP has developed a multi-sectoral plan of action to address the root causes of food insecurity and to strengthen communities' resilience to such crises. Activities will be implemented in Burkina Faso, Cameroon, Chad, The Gambia, Niger, Mali, Mauritania and Senegal.
WFP's aid program will benefit an estimated nine million people and help empower communities and build their resilience against food shortages through the introduction of long-term interventions.
OFID's contribution to these aid efforts is US$800,000. Since 1981, OFID has extended 27 grants totaling over US$45 million in support of WFP operations worldwide.
Read more about OFID's grant program