OFID and UNESCO Sign Project Agreement to Improve Education for Palestinian Children in West Bank and Gaza Strip
OFID and UNESCO Sign Project Agreement to Improve Education for Palestinian Children in West Bank and Gaza Strip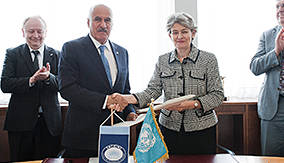 Text provided courtesy of UNESCO
The OPEC Fund for International Development (OFID) signed a project agreement with UNESCO to improve access to quality education for Palestinian children in the West Bank and Gaza Strip, at UNESCO Headquarters on 3 June.
The agreement, for which OFID granted USD1 million to UNESCO, was signed by the Director-General of the Vienna-based OPEC Fund for International Development, Mr Suleiman Jasir Al-Herbish, and Mrs Irina Bokova.
"The commitment to provide quality basic education for all is equally shared by our institution. OFID is fighting poverty on the ground by financing infrastructure (….) but perhaps most importantly by building human capacity through supporting education, research, innovation and knowledge sharing," said Mr Al-Herbish, stressing also OFID's commitment to extending assistance to disadvantaged communities, drawing attention to a special grants programme for the Palestinian people.
The project builds on the Education for All Package for Palestine (2012-2014), involving the Palestinian Ministry of Education and nine UN agencies coordinated by UNESCO. The overall objective is to promote quality basic education for all children, particularly for those who are most vulnerable to exclusion from and within education. It focuses on building inclusive and child-friendly education and early childhood development, through strengthening the capacities of the Ministry of Education and education personnel. It also aims to reinforce the linkages between schools and communities through a range of life-skills and after-school programmes targeting children, youth and parents.
Thanking Mr Al-Herbish for OFID's support, Mrs Bokova affirmed that "without making the education system more inclusive and child-friendly, Palestine will not reach the goal of universal access to education. We are doing justice to Palestinian children and enlarging the scope of our intervention by encompassing early childhood development, teacher development, after-school programs, giving special attention to children with special educational needs and involving parents. Through this partnership we are aiming to build a more inclusive and equitable society by giving every boy and girl the possibility to develop their potential and contribute to their families and communities."
The project will continue working in 32 pilot schools in the West Bank and 14 pilot schools in Gaza already covered by the EFA Package for Palestine. These schools have benefited from a school feeding initiative, teacher training on ICTs, special educational needs, educational leadership, and inclusive pedagogies, as well as the implementation of early childhood development programmes. These interventions will be scaled up in 20 schools (10 in the West Bank, 10 in Gaza, including 5 UNRWA schools in each location).
The goal is to make the education system more inclusive, and to specifically reach children most vulnerable to exclusion, in particular those affected by conflict, occupation and war; those experiencing learning difficulties, living with disabilities, or from Bedouin and herder communities.
Although the vast majority of children in Palestine have access to basic education, many underperform and drop out of school before they complete a full cycle of education. Figures from 2010 indicate that more than 95,000 school-aged children are out of school, of which a large number live with disabilities.
OFID and UNESCO enjoy a longstanding cooperation dating back to 1985. To date, OFID has co-financed 11 projects implemented by UNESCO, notably supporting comprehensive education sector responses to HIV/AIDS in sub-Saharan Africa and emergency education support to secondary and higher education in Haiti.
Text provided courtesy of UNESCO