OFID and Shell Foundation sign grant agreement for energy initiative
OFID and Shell Foundation sign grant agreement for energy initiative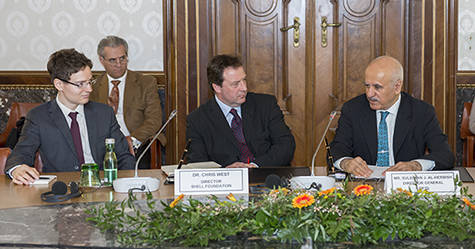 Mr Al-Herbish signs grant agreement with Dr Chris West, CEO (center), and Mr Simon Desjardins (far left), Program Manager, Access to Energy, Shell Foundation.
March 10, 2014, Vienna, Austria. OFID Director-General Mr Suleiman J Al-Herbish signed a US$1 million grant agreement with Dr Chris West, CEO of the Shell Foundation. The agreement covers a two-component project that aims at improving access to efficient cooking stoves in Sub-Saharan Africa and Latin America.
The first component will provide access to a new, heavy-duty cookstove for public institutions in six Sub-Saharan Africa countries; namely, Cameroon, Congo DR, Côte d'Ivoire, Ghana, Kenya and Liberia. Nearly 923,000 people are expected to benefit from the project.
The second component will setup a regional hub for seven Latin American countries (Belize, Costa Rica, El Salvador, Guatemala, Honduras, Nicaragua and Peru) for the manufacturing and distribution of Cookstoves. Direct beneficiaries are expected to be about 208,650 people.
OFID's partnership with the Shell Foundation began in 2011, when the two institutions teamed up with d.light, a social enterprise that has transformed the lives of more than 25 million people who have little or no access to electricity.
OFID's grant supported a pilot scheme of d.light that helped bring solar lanterns to energy poor communities in Kenya and Tanzania.
In 2012, OFID approved a grant to enable rural populations in beneficiary countries (Ethiopia, Kenya, Malawi, Tanzania, Uganda, Zambia and Honduras) to have access to safe, clean and affordable energy services.
Read interview with d.light CEO Don Tice, published in the January 2014 issue of the OFID Quarterly.