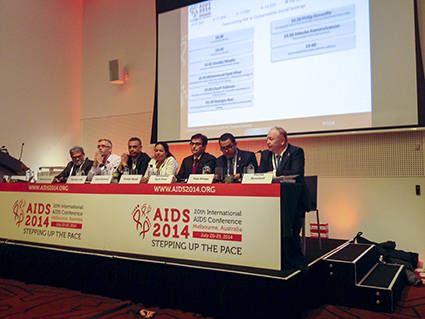 Overcoming HIV in Conservative Social Settings
Head of OFID's Grants Unit Mr Rachid Bencherif (far right) chairs the satellite session Overcoming HIV in Conservative Social Settings.
July 22, 2014, Vienna, Austria. An OFID delegation is attending the 20th International AIDS Conference (AIDS 2014) taking place in Melbourne, Australia from July 20 until July 25. The theme of the conference is Stepping up the Pace. The event is bringing together practitioners, policy makers, persons living with HIV and other individuals committed to ending the pandemic. The biennial international AIDS conferences are organized by the International AIDS Society (IAS), which OFID has supported since 2004. OFID has also extended grants totaling US$1.74m to enable participants from developing countries to attend the conferences. This year, OFID's grant is sponsoring 47 participants from more than 20 developing countries.
At the end of April this year, as a lead-up to the conference, OFID hosted a joint OFID/IAS workshop entitled Overcoming HIV in Conservative Social Settings. On July 23, Head of OFID's Grants Unit Mr Rachid Bencherif chaired a satellite session that focused on the same topic.
OFID's delegation are attending a number of sessions and meeting with various partner organizations regarding present and future cooperation, as well as disseminating information about OFID's activities in the area of HIV/AIDS eradication at its exhibition booth.
In 2001, OFID took steps to consolidate and strengthen its involvement in the global effort against HIV/AIDS by creating a special program. As of May 31, 2014, nearly US$85 million had been approved through the program. Today, OFID is working with a broad coalition of strategic partners to fight the pandemic in over 100 countries. The institution's interventions cover many areas, including awareness, prevention, testing and counseling, as well as care, treatment and support. You can learn more about OFID's support towards HIV/AIDS eradication here.