No surrender to the threat of nature
No surrender to the threat of nature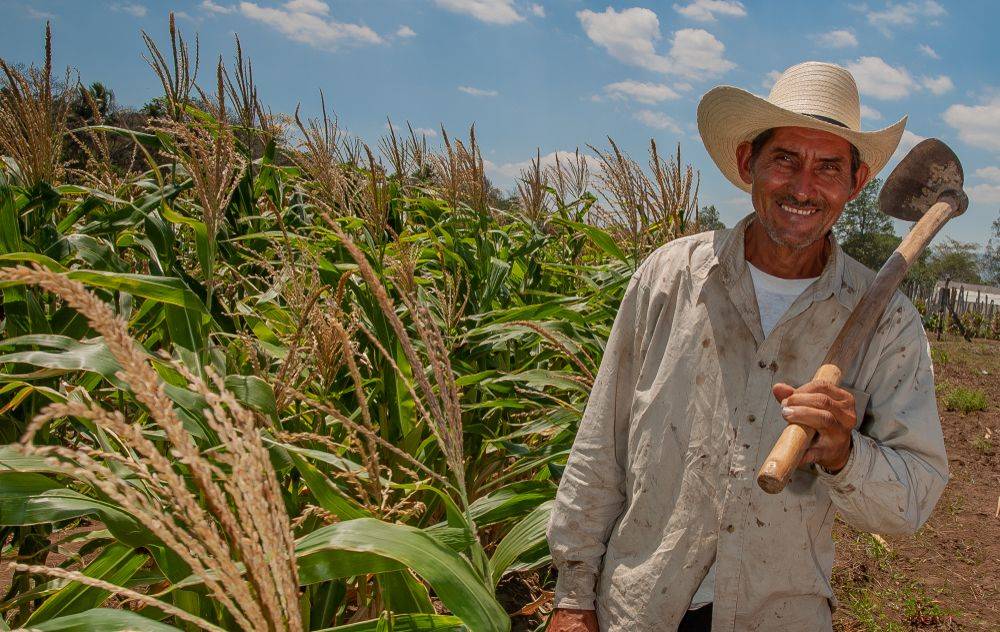 Photo: Shutterstock
Concerted efforts are underway in El Salvador to blunt the effects of the country's environmental vulnerability by fostering the productivity of smallholder farmers.
El Salvador, the smallest and most densely populated country of Central America, has more than 300km of Pacific Ocean coastline, as well as an extensive system of national parks and reserves, including colonial towns and archaeological sites, all of them vestiges of a rich historical past. In addition, the country is positioned in one of Earth's most active seismic regions—the Pacific Ring of Fire—encompassing over twenty volcanoes.
El Salvador's location places it under the constant threat of natural disasters. Earthquakes, hurricanes, floods, and droughts hit with alarming regularity, leaving behind a trail of destruction, with the most devastating effect on the poorest regions. Each year the country is involved in a continuous recovery process. El Salvador's Minister of Agriculture and Livestock, Orestes Ortez, stated that, just this year, ten percent of the harvest had been lost due to droughts caused by atypical, warmer Pacific Ocean temperatures known as El Niño.
According to World Bank estimates, the constant recurrence of destructive natural phenomena severely impacts El Salvador's agriculture industry, which produces 70 percent of the nation's domestic requirements, as well as a third of its export earnings. Of the total 6.3 million inhabitants, approximately 40 percent makes a living from agriculture.
Statistics produced by the International Fund for Agricultural Development (IFAD) indicate that 50 percent of rural poverty is due to inequality of ownership and access to land, plus a lack of appropriate social and productive assets. Added to this is the country's environmental vulnerability, weak productive efficiency and low level of competitiveness.
Hunger and the persistent scarcity of food supplies are evidence of rural poverty, which was one of the main causes of the 12-year armed conflict in the 1980s, as identified in the Peace Accords of 1992. Many of the rural poor are subsistence farmers or landless agricultural workers.
With inferior infrastructure and an absence of basic services, as well as weak institutions, credit is difficult to obtain. As a result, poverty is prevalent among those operating small rural enterprises. IFAD reports that one in three Salvadoran households is headed by women, a percentage that increases in rural areas as a consequence of war and male migration. This means smallholder farms are run mostly by women.
Tackling rural poverty
In 2005, the government of El Salvador instituted a framework entitled the National System for Food Security and Nutrition. As a component of the National Plan, this rural development platform fosters the productive capacity of the different regions, focusing on social and economic investments in areas of extreme poverty.
In 2010, OFID was requested, jointly with IFAD, to support the country's food security strategy through the Rural Territorial Competitiveness Project—Rural Dawn. Romulo Martínez, OFID country officer, explained that the project, which is the organization's first operation in El Salvador for 26 years, forms part of the government's Family Agriculture Plan (PAF).
Its purpose is to boost both subsistence farming and family-based commercial farming with the aim of reducing rural poverty and guaranteeing food security and improved incomes. In addition, the project will seek to engage rural farmers in the food supply chain and commercialization process by establishing links with agroindustry.
Martinez said that Rural Dawn would support the consolidation of micro and small rural businesses in eight out of fourteen country departments. "The program is gender and youth focused and will benefit approximately 200,000 people in total," he added. Rural Dawn is fully aligned with the enhanced cooperation agreement signed by OFID and IFAD in 2010, which focuses on the cofinancing of food security and energy operations as part of the water-food-energy nexus.
Rural Dawn is providing funds to protect more than 18,000 hectares affected by draught. It is reforesting some 4,000 ha and providing specialized environmental and water management support as well as irrigation systems and equipment. Martinez disclosed that energy efficiency was being tackled through the provision of at least 6,000 firewood efficient cook stoves, which would create healthier household environments and have a positive impact on overall opportunities for rural poor women.
With such a breadth of activities, Rural Dawn heralds a new and better day for the farming families of El Salvador.