Nepal: Reviving land, liberating communities
Nepal: Reviving land, liberating communities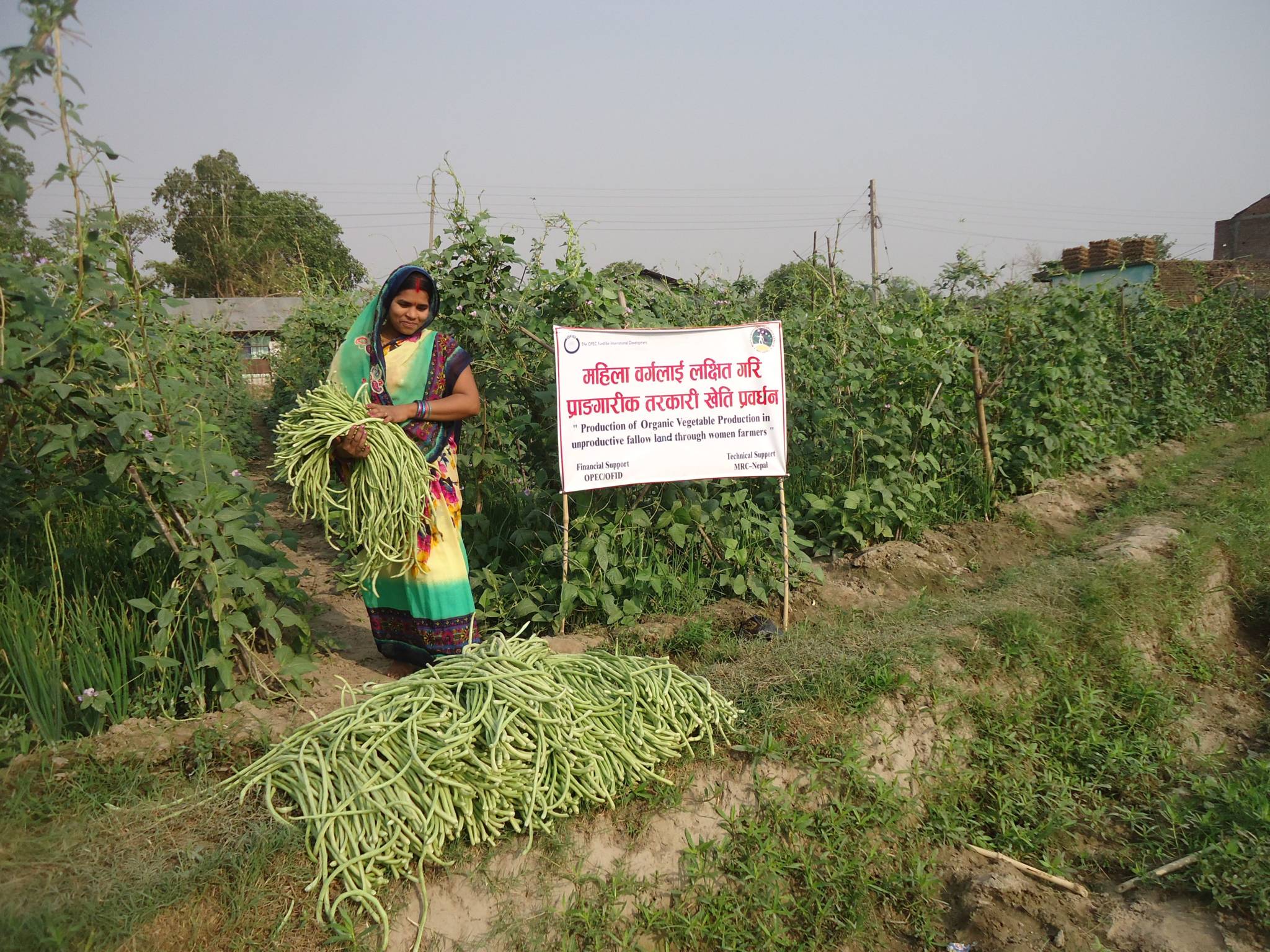 Photo: MRC Nepal
With the help of OFID, women in the poorest districts of Nepal are transforming their economies by cultivating barren lands for agricultural production.
Traditional farming was not enough to support Bishnu Maya Sapkota and her family of eight in the Bara district in Southern Nepal. Every year from October to May, the production of her crops was interrupted by the country's lengthy dry season. During these months, water would retreat from the riverbeds leaving the surrounding land unsuitable for farming.
"In Nepal, traditional agriculture is totally dependent on climate," Bishnu told the Quarterly. But like most women farmers, she lacked the technical know-how and means to attempt off-season farming.
Bishnu's situation was transformed after receiving training and financial support from the Pragatisil Mahila Samuha women's group, in association with OFID partner the Multidimensional Resource Center Nepal (MRC-Nepal).
Through MRC-Nepal, which targets low income households dependant on agriculture and agribusiness, Bishnu received training for off-season vegetable farming, savings and credit, and leadership and management.
MRC-Nepal supports farmers, especially women, to gain knowledge about efficient farming technologies and practices to improve irrigation and mobilize unproductive land.
With the knowledge she has gained, Bishnu was able to plant gourd vegetables earning an additional US$1,100 from the sale of vegetables in one year. With this extra, sustainable source of income, she plans to scale up land for her farm.
Agents of change
The MRC-Nepal project has increased agricultural production and incomes, creating more job opportunities in the Bara, Parsa, Makwanpur and Chitwan districts of Southern Nepal where urban migration is prevalent.
These increased opportunities haveprompted many men to return to the rural areas to work for their wives in the field. As well as providing financial relief for the families, this has endowed these traditionally marginalized women with greater respect in their communities.
This was the case for 45 year-old Goma Kharel, from Chitwan. With a family of five to support, she decided to join a women's group in 2014. The group helped Goma to mobilize her land based on organic farming and provided her with quality vegetable seeds including cowpea, okra, and sponge gourd.
"I now have a good social standing within my community and I'm seen as a progressive farmer," she said. Goma's husband now also works to support her activities, which have doubled her annual earnings. MRC-Nepal has also provided 50 year-old Bigni Chaudhary with the tools to determine her own future.
Only a year ago, Bigni move to the city to support her family of ten. ith only basic tools and knowledge of farming, she was unable to fully utilize her land, which yielded less than four months of food production, earning her less than US$200 a year.
When Bigni learned that MRC-Nepal was training female farmers in efficient land management she enrolled in the Triveni women
farmers group in Parsa. Within four months,she doubled the size of her land and earned enough to meet the basic needs of her family members.
With her increased income, Bigni is now able to send her children to private schools and provide them with good clothing and housing. What's more, she has become a commercial farmer and has been spreading her knowledge throughout her community.
To date, MRC-Nepal's support has boosted the incomes of 3,670 marginalized women farmers, who as a result have been able to reduce their dependency on their husbands, pay off debt and provide quality health and education for their children. As the drivers of rural growth, these women are improving the living conditions of their families and their communities.