Mobilizing OFID's private sector to meet SDG education targets
Mobilizing OFID's private sector to meet SDG education targets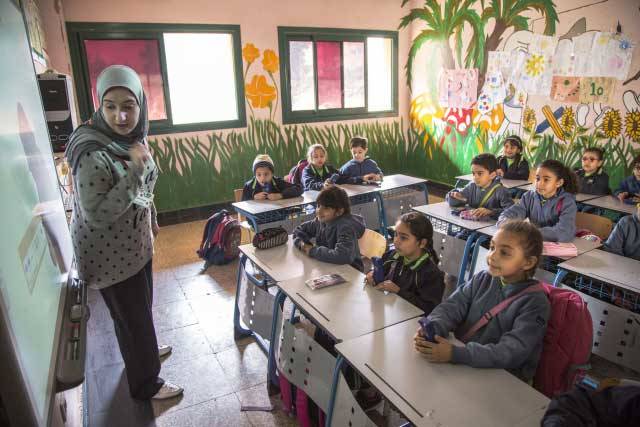 Photo: Sifem/Mostafa Darwish
Substantial financing will be needed to strengthen education and vocational training to meet the fourth Sustainable Development Goal (SDG) of inclusive, quality education for all and the promotion of lifelong learning. OFID is rising to the challenge using private sector mechanisms.
Much progress has been made to raise global school enrolment levels and increase access to education, yet some 103 million youth worldwide—60 percent of whom are women—still lack basic literacy skills.
Inclusive, viable education requires investments in infrastructure, teaching staff and support to develop coherent and effective education systems. However, in 2009, education account for a mere two percent of humanitarian aid. With aid allocations falling steadily— according to OECD reports, aid to basic education is currently six percent lower than in 2010—the United Nations has called on the donor community to focus more attention on this vital sector, especially in the poorest countries.
"The private sector needs to get involved to bridge the massive financing gap," said Tareq Alnassar, OFID's Head of Private Sector and Trade Finance Operations.
An example of OFID's intervention is the organization's participation in the Abraaj North Africa Fund II (ANAF II – see overleaf), which has supported an investment in CIRA, the largest K-12* education group in Egypt. With more than 20 schools operating under the brand 'Future Schools', CIRA provides affordable quality education for Egyptian families. The additional equity provided by ANAF II is helping CIRA increase the number of Future Schools facilities across the country and build the new Badr University in Cairo, with room for 20,000 students.
"The education sector is a key pillar of Egyptian economic growth," said Dr Hassan El Kalla, Chairman of CIRA. He explained that the company focuses on the largely underserved mass market segment, which represents almost 70 percent of the Egyptian population.
OFID's Alnassar says this is indicative of how private sector engagement can increase the effectiveness of school systems: "Our involvement is as much about helping to raise environmental, social and governance standards, in addition to improving management capacity, as it is about mobilizing resources."
The schools—built, owned and operated by CIRA—offer national and international curricula with integrated skills-based subjects, such as technology and foreign languages. By serving students in parallel to the public schooling system, CIRA is lightening the burden on already overstretched public infrastructure.