Madagascar to strengthen education and transportation sectors with new OFID loans
Madagascar to strengthen education and transportation sectors with new OFID loans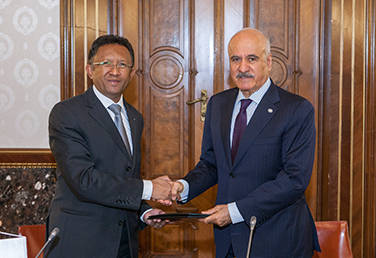 HE Hery Rajaonarimampianina and OFID Director-General Mr Suleiman J. Al-Herbish.
April 29, 2013, Vienna, Austria. OFID has signed two loan agreements to help strengthen Madagascar's higher education and transportation sectors. The agreements were signed by OFID Director-General Mr Suleiman J. Al-Herbish and HE Hery Rajaonarimampianina, Minister of Finance and Budget of Madagascar.
During the loan signature ceremony, the Minister thanked Mr Al-Herbish for OFID's support, which was "crucial" to Madagascar's socio-economic development as it was "financing key sectors." Minister Rajaonarimampianina also spoke of his country's goal to strengthen its human resource base in order to achieve sustainable development, which the newly-signed education project loan would help fulfill. Mr Al-Herbish talked about OFID's longstanding relationship with the country, and highlighted the institution's energy poverty eradication efforts, which included its Energy for the Poor initiative and Ministerial Declaration that committed a minimum of US$1 billion in support of energy-related projects. OFID would, explained the Director-General, be willing to support projects in the country that would help provide energy access to underserved communities.
The projects being supported under the loans are as follows:
OFID and Madagascar have been partners in development since the institution's inception in 1976. To date, OFID has approved public sector loans totaling nearly US$180 million, which helped bolster the country's transportation, education, agriculture, energy and health sectors, and provided balance of payments support. In terms of grant assistance, Madagascar has been a beneficiary of regional grants that co-funded HIV/AIDS programs, an agro-processing scheme and a physical rehabilitation project. OFID has also extended two national grants in support of a locust control campaign and an energy initiative.
More information about OFID's co-financed projects in Madagascar.