Keeping heads above water in the wettest capital on earth
Keeping heads above water in the wettest capital on earth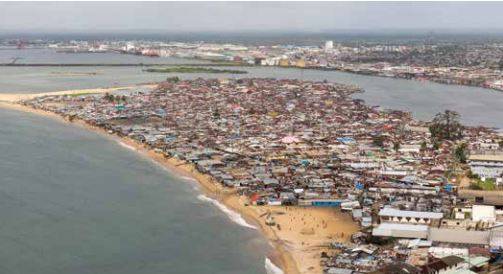 Photo: Tamara Stubbs/Alamy stock photo
OFID has signed a grant agreement with Habitat for Humanity International (Habitat) to support a project to improve living conditions for slum dwellers on Peace Island in Greater Monrovia, Liberia, West Africa.
Liberia's most populous city Monrovia is inhabited by circa one million people – around three-quarters of whom live in slum settlements. Deemed the wettest capital in the world, Monrovia is subject to severe flooding owing to substandard drainage. This, along with poor sanitation, subjects communities to waterborne illnesses and impedes livelihoods and businesses that depend on reliable roads to transport goods and services.
OFID's US$420,000 grant agreement (the project is co-financed by Cities Alliance) will support a broad program to provide affordable and better-quality housing. Project activities will include building and renovating water and sanitary facilities, raising awareness of health and hygiene issues and providing support to community-led waste collection and management programs. Also planned is an affordable housing scheme that will provide construction materials and micro-finance loans, and support capacity building.
International NGO UN-Habitat strives to provide low-income households with affordable, decent housing through community-led schemes and aims to develop and expand market-based services, products and funding. This includes microfinance and disaster-reduction and preparedness services. Habitat is a partner in the five-year Liberia Country Program (see box) – an urban-upgrading program drafted by the global partnership Cities Alliance.
Liberia has been a beneficiary of regional OFID grants that have helped fund HIV / AIDS and polio eradication, fight Ebola and support water safety and clean cooking initiatives.