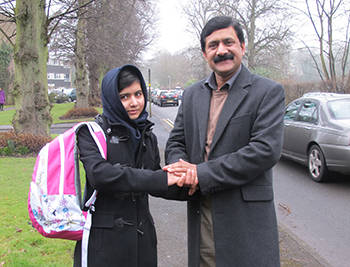 Mr Ziauddin Yousafazai, Ms Malala Yousafzai's father,accepted the OFID Annual Award on behalf of his daugther.
Malala Yousafzai, a 16-year old Pakistani national and activist for education and women's rights, is the youngest nominee for the Nobel Peace Prize in history. In 2012, she was shot for speaking out in favor of young women's right to education, but has since been recovering from her injuries. She has received numerous awards including Pakistan's National Youth Peace Prize, the Simone de Beauvoir Prize and was featured on Foreign Policy Magazine's list of top global thinkers.
July 12, 2013 is Malala's 16th birthday. To celebrate Malala Day the global community will come together to highlight the leading role that youth can play in enabling all children to get an education. Malala will be marking the day by giving her first public speech since the shooting dedicated to the importance of universal education at the United Nations Headquarters in New York. In support of the United Nations Secretary-General's Global Education First Initiative, international youth leaders will convene at the United Nations and in cities around the world in support of reaching the goal of having all children, especially girls, in school and learning by 2015.
OFID confers Annual Award for Development to Malala
On June 13, 2013, OFID awarded Malala with the 2013 OFID Annual Award for Development in appreciation of her fearless struggle to uphold the right of girls and women in the Swat Valley of Pakistan to receive an education. Presented at the 34th Annual Session of the Ministerial Council of OFID, the award was accepted by Mr Ziauddin Yousafazai on behalf of his daughter.
Upon being informed about the award, Ms Yousafzai sent a video response to OFID in which she expressed her gratitude for being honored with such a "prestigious award." She also stated her hope that all organizations could "work together to educate girls, to teach them, to empower them" and stressed that education for all is "true development."
Read OFID's full press release