Improving access to health for rural Papuans
Improving access to health for rural Papuans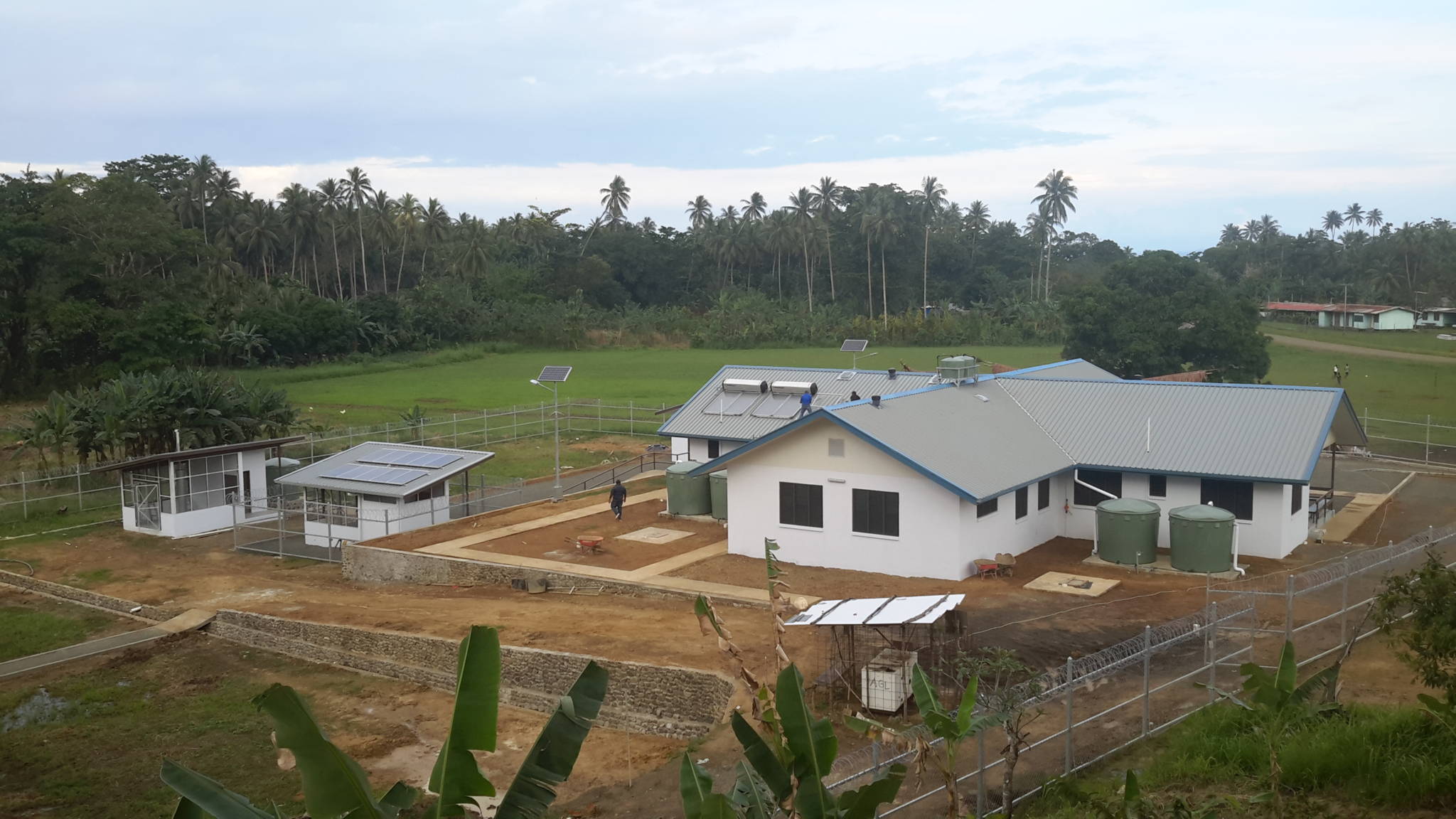 Photo: RPHSDP/National Dept of Health, Papua New Guinea

With the inauguration of the first of over 150 new rural clinics, Papua New Guinea is looking forward to gradually transforming healthcare delivery and improving life expectancy for its 7.3 million people.
The new community health post in Milne Bay Province boasts only six beds but it represents a lifeline for the 10,000-strong local population. Expectant mothers no longer have to travel 35km to the nearest hospital for their antenatal check-ups, and they can deliver their babies close to home under the care of qualified midwives. For the general community, the clinic offers a whole range of primary healthcare services, including immunizations. Open 24/7 to accommodate minor emergencies, it also provides inpatient care.
The inauguration in the town of Bubuleta in late July marked a new era in Papua New Guinea's health system. Supported by the joint financial efforts of the international community, including OFID, the government is committed to overhauling the system, with the express aim of delivering quality healthcare services to remote, rural populations. The initial rollout will see the construction, renovation and equipping of 32 community health posts and 128 healthcare facilities to cover more than 1.3 million people.
Challenging environment
Occupying the eastern part of New Guinea and some 600 smaller islands, Papua New Guinea is characterized by unique geographical and demographical conditions that have traditionally hampered healthcare delivery. The country extends over an area of around 462,000 square kilometres, but its population numbers only 7.3 million, meaning that it is widely scattered. As a comparison, the United Kingdom holds 65 million people in an area half that size.
Given the mountainous terrain and predominant rainforest, travel within the country is extremely difficult. Even the capital, Port Moresby, is not linked by road to any other major towns. Many remote villages can be reached only by light aircraft or on foot, which prevents 80 percent of the Papuans, who live in the country's rural areas, from having adequate access to health facilities. Often, they walk many hours or travel down the rivers on rafts to reach medical assistance. In countless cases, their efforts are in vain and they arrive at their destination too late for medical intervention.
According to estimates by the World Health Organization, life expectancy for Papuans is 63 years on average, six years shorter than the regional average of 69 and nine years less than the global average of 71. This gap is largely due to causes that could be solved with early medical attention.
Papua New Guinea's high mortality rate stems from communicable diseases such as malaria, tuberculosis, diarrhea, and acute respiratory disease. Official figures estimate a child mortality rate of 57 per 1,000 live births, while the maternal mortality rate is estimated at 733 per 100,000 live births. The country also has the highest incidence of HIV/AIDS in the Pacific region. The majority of these illnesses and related complications could be avoided through a more robust primary healthcare program.
Access to healthcare is further constrained by limited resources, dilapidated infrastructure and poorly trained staff, all of which has led to the closing of approximately 40 percent of rural clinics. The situation is compounded by above-average population growth against a stagnant cadre of medical professionals, which remains at 0.06 physicians per 1,000 people.
More than just a health post
OFID's contribution to the "Rural Primary Health Services Delivery Project" is being used exclusively for the infrastructure component, including for water, sanitation, energy and waste management facilities, as well as staff housing. Funding from other partners, such as the Asian Development Bank and AusAID, is covering essential medical equipment and furniture. A capacity building component is supporting existing and new health promotion programs implemented by local civil society organizations.
While the majority of the project communities are still waiting for the completion of their new health post, they can be encouraged by the success of the flagship clinic in Bubuleta. Although just weeks old, it has already established the area around it as a community hub. A market has set up nearby and local leaders have organized a place for community meetings and sporting events as well as a weekend playground for children. So, in addition to the prospect of improved health, families who previously have lived in isolation are already enjoying a closer community spirit.
Operations in Papua New Guinea
Operations in Papua New Guinea
Focus Area
Transportation