Good health is thirsty work
Good health is thirsty work
Kiosks to provide affordable drinking water – and jobs – to vulnerable populations in Mali, Mauritania and Senegal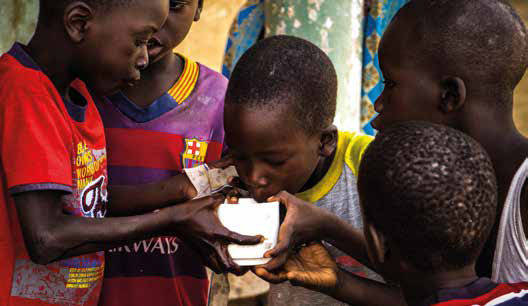 Photo: Swiss Fresh Water
Around 12 million people live in the Senegal River basin – an area that covers around 337,000 km2. During the seven months of the dry season, rainfall averages only 2.5 mm per month, and daily temperatures can reach over 38 degrees Celsius (figures according to the World Bank). Many poor rural communities living in Mali, Mauritania and Senegal – part of the basin – still lack access to safe drinking water. Population growth and human activity – including farming, industry and mining – have contributed to the pollution and contamination of existing water sources, negatively impacting people's health.
Working with Swiss Fresh Water, the Access to Water Foundation (A2W) and local partners, OFID has provided a grant of US$800,000 (toward the total project cost of US$1,690,000) to improve access to safe drinking water in the region. The proposed project is a scale-up of an initiative successfully implemented in four regions of Senegal from 2011 to 2016.

Badara Diom, Djirnda Mayor and President of A2W Senegal, says: "As in many countries of the world, safe water access is restricted in Senegal. In the Senegal River region more precisely, the main issues are that the water coming from dif­ferent sources such as boreholes, rivers, public networks and wells is most of the time contaminated which means the population suffers from illnesses such as diarrhea, hypertension, kidney diseases and so on. In addition to the negative health effects, this has a strong impact on absenteeism at school and work, and on life quality, and can push people from remote areas to migrate to cities."
OFID's Head of Grants and Technical Assistance Dr Walid Mehalaine says: "The two-year project is ex­pected to benefit approximately 250,000 people directly and create 300 local job opportunities. We're aiming to reduce the incidence of waterborne diseases and improve living conditions significantly."
Dr Mehalaine says that water treatment machines installed in 'kiosks' will produce drinking water from brackish, polluted or salty water, and these kiosks will sell the safe water at an affordable price – 1.5 US cents – per liter. This is much cheaper than bottled water or water sold in plastic bags by local shops or private vendors. Around 100 water treatment machines are planned: 25 machines in both Mali and Maurita­nia, and 50 machines in Senegal. The project will also train local techni­cians and water kiosk managers.
A2W Project Manager Clémence Langone explains: "Each kiosk installation can generate around three direct jobs, to manage, administer, market, deliver and clean the facility. Some indirect jobs can also be created around the kiosk due to its daily activity: water can be used for fish cleaning, fruit juice production, etc. We are now setting up training sessions particularly dedicated to women and youth to teach them all these jobs."
Renaud de Watteville, A2W Founder, says: "The first phase of the program in Senegal generated a lot of satisfaction and made a real and measurable impact thanks to the monitoring of each machine via the internet. Because of this, there is much demand for better access to clean water in Senegal. Every week, A2W receives new requests for help from developing countries in Africa and other parts of the world."
About the project partners
The project will be implemented by Access to Water Foundation – a Swiss-based organiza­tion established by Swiss Fresh Water (SFW) in 2012. SFW was established in 2008 and is based in Switzerland. It has designed and developed decentralized desalination water treatment machines successfully tested in Senegal. Local partners will be engaged to encourage ownership and sustainability.
As published in the Oct 2018 issue of the OFID Quarterly